get dirty
Garden Projects for Right Now
spring is near – here's how to get started in the garden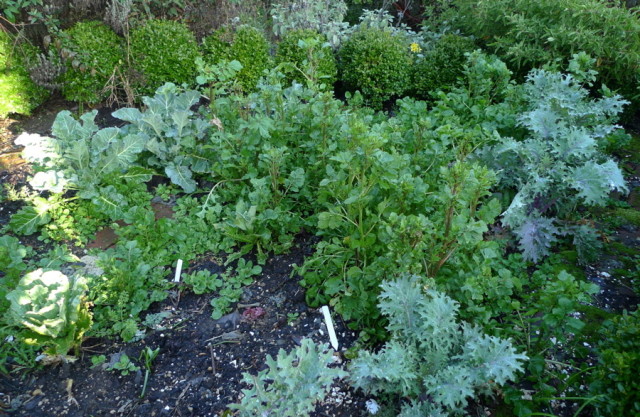 It's nearly spring in Western Oregon, so constant rain or sprinkles are to be expected. But if you can dash out between the rain (and snow?) this weekend, here are some projects that will help jump-start your spring garden.
We'll start with some pruning suggestions, a couple of things to plant, and some pleasant, puttery tasks that can even be done if it's sprinkling.
But first, a tip for everyone who gardens in the PNW: try not to step on the surface of your garden when the ground is wet! Naturally, we're all eager to get out and plant, dig and turn the soil. But unless it's under an eave, garden soil is still wet, and stepping or standing on it when it's sodden can compact it, damage the structure and result in rock-hard clay when it dries out in summer. Do your garden a favor: if you need to dig while your soil is still heavy with moisture, do it sparingly. Major soil preparation is best done after a few dry days. (Like we had a few weeks ago!) And if you have heavy, never-worked, unimproved soil, wait until a little later in the season to get started. If you've been enriching your soil with compost for years, or have added pumice to lighten it in the past, you have more leeway: there will be more air and fluffy organic matter, and less clay in your soil, making it a bit more resilient to year-round digging. But play it safe and use a flat piece of cardboard to stand on if you absolutely must dig up an area right now.
Shopping list:
- soil thermometer (about $10 at most neighborhood nurseries)
- seeds for cool-weather vegetables/flowers
- sack or two of garden compost for vegetable garden, if you don't have home-made
- organic, balanced, granular or pelleted fertilizer for potted plants
Things to plant now, outside (when ground is not sodden):
- Seed peas (snap, snow, shelling and, of course, fragrant sweet peas for flowers), as well as arugula, Asian mustard greens and mache (very cold-resistant greens)
- Seed kale, chard, lettuce, and spinach once soil temperatures are over 40F (use that thermometer) and carrots, radish, and beets when beets towards the end of the month
- Plant potato tubers (towards end of month — but buy them now, while selection's better)
- Plant onion sets (bundles of baby onion plants)
- Plant garlic and shallots bulbs (best in fall but now's okay too)
- Plant starts of kale, lettuce, parsley, chard, early cabbage, greens
- Plant caneberries, blueberries, strawberries, rhubarb, and all varieties of other small fruit
Other projects for now, outside:
- Fertilize potted plants with a balanced, organic, pelleted or granular fertilizer (follow instructions on bag/box). This is particularly important if plants have been growing in the same pot for a few years. But don't over-do it, if you want to keep the plant's size under control.
- Prune and shape any winter-flowering shrubs (such as early-blooming winter camellia, witch hazel, and winter box) that have finished flowering.
- Cut back (most) hydrangeas (if you didn't do it last fall). Old fashioned mopheads and lacecap types (H. macrophylla and H. serrata) can be cut back with impunity in our climate, and rarely suffer. On an established plant, remove all spindly stems arising from the base, tip back branches to a strong pair of buds (simultaneously remove last year's dried flower heads) and use a hand-saw or strong loppers to take out a couple of the biggest, oldest, gnarliest stems from the base of the plant. You should be left with a decent framework of medium sized stems arising from the base of the shrub.
- Any remaining stems on herbaceous perennials (lilies, asters, peonies, sedums, etc) should now be snipped back, as the plants are beginning to send up fresh new growth. Get out the clippers and have at it!
-Too cold and rainy to work outside? March is the perfect time to repot your pot-bound houseplants. Tip plants out of their pots. Reuse the same pot (but with fresh soil) if you want to keep the plant the same size – just gently prune the roots and top of the plant. If you want the plant to grow larger, increase the pot size by an inch or so. Whatever pot size you use, remove as much of the old potting soil as possible (tease it out with your fingers) and repot the plant with fresh potting soil. Run water through pot in the sink repeatedly until soil is completely damp all the way through, and let drain before putting pot back in place.