Article
Indoor Seed-Starting
it's easy, it's fun — and it doesn't have to be expensive, either!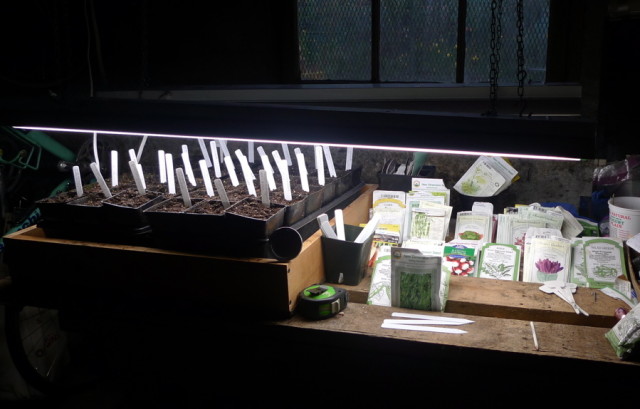 Why not start some flower and vegetable seeds this year? You don't need any special equipment (although you might think about graduating to a more sophisticated set-up eventually). But even if you've never done it before, give it a try. It's easy, it's fun and it doesn't have to be expensive, either. Try just a couple of seed varieties – some of the easiest to start now are lettuce, peppers, and tomatoes. In late April or early May, sow squash, cucumbers, melons and other quick-growing summer vegetables indoors, for planting out in late May/early June. But to begin: Vegetables Round One:
Here's what you need:
- planting containers. Almost anything that holds potting soil can be used. To recycle nursery pots (2- to 4-inch size best) or flats, run them through the dishwasher or scrub them clean and dry them.
- drip dishes or trays for underneath pots. If you re-use old drip dishes or trays, wash them too. Some recommend using bleach but I stopped doing that a few years ago and haven't had problems yet.
- potting medium. Save yourself from any possible disease/insect issues and purchase seedling mix for seeding plants indoors.
- seeds. If you're using older packets, make sure to check that the seeds are still viable. Most seeds have a date and will say how long the seeds are viable if stored properly. If not, you can google it. Best to start indoors are leafy greens, onions, cole crops, and fruiting plants like tomatoes. (Root crops are best to sow directly outdoors.)
- labels. Re-use plastic nursery tags that have one blank side, buy new plastic tags or use popsicle sticks.
- pencil. Pencil is most durable on plastic tags.
- lights. This is really valuable but not completely essential. If you have a very bright spot in a bright room, right next to a window, your seeds could get enough light… especially if we have unusually bright days for the next month. But a grow-light's more reliable! I use shop lights and actually, mine aren't even full spectrum – just regular shop lights. Full spectrum is better but you can get away with regular shop lights for short-term seed starting projects (versus trying to bring plants into flower under lights).
- heat mats or cables. These are easy to find at local nurseries but if you're just starting a few plants, get creative. Those plants that do best with bottom heat (eggplants, peppers, even tomatoes) can be put in a warm spot such as the top of an inefficient, old-fashioned fridge or even close to a heating vent. (Try setting them on bubble wrap or another insulating material, to retain heat between blasts.) Just be sure to move the tray into a bright spot once seeds have germinated.
But first… what seeds to start, and when?
The ideal time to start the slower-growing, warm-season crops like tomatoes, eggplants and peppers indoors is mid-February to mid-March. But choose quicker-growing, smaller-fruited types and you can start them now through late March. Most beginning gardeners find their tomatoes sown in February are getting too leggy in late April, and yet it isn't warm enough to plant them outdoors yet. Once you've done it for a few years, you'll have a system locked in and can adjust your lights and have a succession of seeds going. But for beginners, I suggest starting with easy, small-fruiting jalapeno peppers, cherry tomatoes, and Asian eggplants now and plan to set them out in late May/early June. (Mid-May if you have an exceptionally warm spot near a building or use floating row covers, Wall-O-Waters or Kozy Kotes or other forms of season-extending devices.) Personally, I'm starting mine now. Now's also a good time to start cool-season flowers like pot marigold (Calendula ), poppies and love-in-a-mist (Nigella), herbs like parsley, cilantro and chervil, and cool-season vegetables that can be set out in 3-4 weeks including lettuce, kale, mustard and bok choi. If you're feeling ambitious, start perennial flower seeds now. Check seed packets for details.
Get planting:
Okay, the moment of truth has arrived – it's time to start your seeds.
Wet your soil mix in a large bowl or tub. (It's harder to wet the peaty seed mixes when they're already in the pot – you'll have to keep adding more soil, and it's a pain, take my word for it.) Once the soil is thoroughly damp, gently press the seed mix into the trays or pots, taking care not to compact it too much. If the mix is chunky, mist or gently water to settle it. Now, label your pots so you don't forget what you're planting where! With pots labeled, sow your seeds, following the directions on the seed packets. Cover with soil to the depth recommended on the seed packets. Water gently with a spray bottle to settle seeds. Most seeds don't need any light until they germinate so check on them regularly until you see the first seeds sprout. At that point, switch the lights on or just place pots in a bright spot.
For a more in-depth coverage of seed-starting, with diagrams and illustrations, read this I wrote on starting seeds indoors.