Conversation with the Designer
Lapchi Goes Back to the Future
Lapchi's Andrew Neave channels the haute elegance of French midcentury designer Andre Arbus.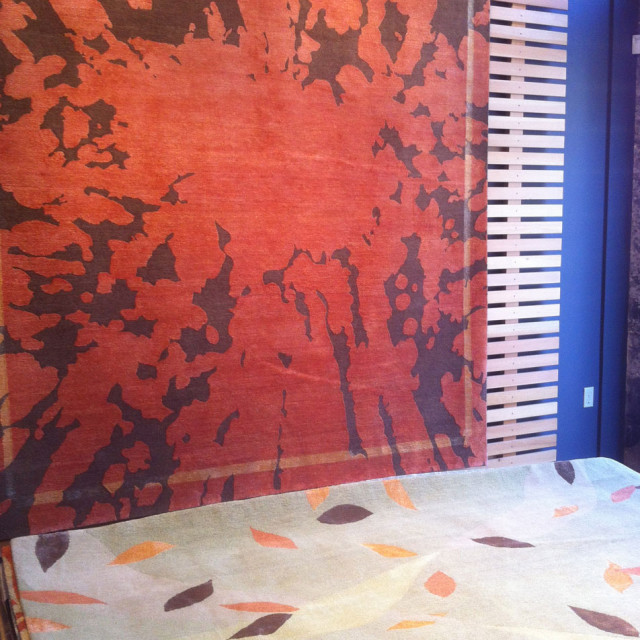 Atelier Lapchi recently released its latest collection of carpets, based on the work of Frenchman Andre Arbus, and Lapchi design director Andrew Neave knows to ask the obvious question: "Why would you revive this person?"
Arbus is – and was – well known in his home country. "In France, it's quite clear, he's part of their cultural heritage. He was beloved in his own lifetime and people remember him." Here in the U.S., not so much. Diane Arbus? Sure. Andre Arbus? Hmmmm.
And yet, the furniture and furnishings work of Monsieur Arbus, stretching from the 1920s to his death in 1969 (at age 66) influenced countless American furniture and housewares designers, not the least of whom were those creating the interiors shown in the glamourous 20th-century movies we still revere for their black and white, art deco and moderne elegance.
Arbus was best known for his furniture, but he also designed lighting, hardware, carpets, buildings (including an entire French village), lighthouses, staterooms and endless details for luxury ocean liners… and he was a fine art sculptor. "That's a lot for a lifetime," says Neave.
Neave, who usually works out of the company's atelier in Los Angeles, dropped into Puddletown last week to introduce the new Arbus-inspired collection to staff and the public. In a couple of free lectures held at Lapchi's Pearl District showroom, he shared what he's learned about Arbus in the course of creating the collection.
Before he headed back to LA, I was lucky enough to sit down with the Lapchi design director. I got the backstory on Andre, and how it came to be that Andrew has translated French mid-century glamour into hand-woven contemporary carpets. Here's some of what we talked about (edited for space and clarity).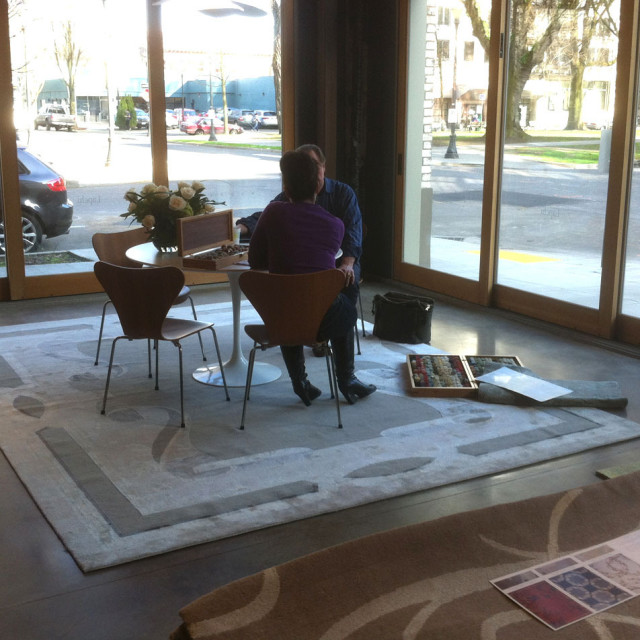 How did this project come about?
"We got this wonderful opportunity where the custodians of his estate were working with Baker Furniture to bring back his lines of furniture and lighting, and asked us. They heard that we do very very fine, flexible, quality work, and that we're a small design house, so it's not a big commercial "take it and bastardize the line" – we'd approach the project sensitively. So we said great, it's a wonderful opportunity. Because to be responsible for bringing – reintroducing – this person to all kinds of markets who may never have heard of him is very very important. It's sort of like being Lagerfeld and being asked to do Chanel. Like – oh my god, you're tinkering with a major French icon, but you have to make it fresh, make it contemporary, what would he be doing now, that's sort of the idea. I approached it, what would he be doing if he were living now and seeing what the market needs and wants yet being true to his design aesthetic…"
On the work that Arbus produced through his career:
"His work evolved over many decades. The style that he was promoting became what I would call transitional style – mature art deco all the way through what some would call moderne furniture. But the late Arbus furnishings – it doesn't look like Danish modern but it's damn close. So you have this incredibly contemporary look."
On the origins of Arbus's design sensibility?
It starts "back at Versailles…it's iconic and it's French. You can actually go back further and say that the French style was based on Renaissance Italy, and much of it was, but the [same] way Japan has re-altered everything, France re-altered everything. So what we're talking about is, instead of being interested in the eclecticism we're so proud of now, they were interested in complete unity of design. So you have the detailing that appears again in the furniture, again in the lighting, the swags, the rug… this entire line in which everything became one idea."
Even the fabrics might be used both in a room and in people's clothing. "So you had even within people's garments a continuity of design that was astonishing. That was power; that was status. Because if you think about it, we've gotten very used, especially in this country, to a world where everything is produced in multiples. In the 18th century, nothing was produced in multiples…"
On France, America, classicism and the competition to be the design capital of the world:
Neave explains that this "French national idea" was the aesthetic Arbus was working within, and it was also classical, or rather, neoclassical: "Everyone of course has been copying this forever. And we're heading into 1880, 1890, the beginning of the 19th century, and the world has been copying this for quite some time. And we look at Jefferson at Monticello – that was French furniture… and Ben Franklin shipped the furniture home. So there is a Franco-American exchange happening."
Neave follows the evolution of this French national idea, and the ever-evolving neoclassicism, into late 19th century/early 20th century artistic and cultural experimentation, and especially the design rivalry between France and Germany. Where France represented luxury, prestige and the human scale and touch, Germany was the machine, mass production and early, idealistic socialism.
On Arbus and that other, more well known modern design icon, Le Corbusier:
Neave compares two 1937 World Expo pavilions, one by Arbus, the other by Le Corbusier (whose name sounds French, but actually he was Swiss). Le Corbusier's pavilion was "an extraordinary essay on geometry," and, as the architect himself proclaimed, "a machine for living." Arbus, by contrast, is look[ing] to the 18th century, lightening it up, softening it up, changing the proportions and giving you this sort of jewel which you can live in. And this is the style that Hollywood took over. This looks like Los Angeles. It became imported lock stock and barrel imported to this country."
On Arbus's design method:
"He went back to the 18th century, and looked to the 17th century, and studied what was important to him, modernized it, using his own design vocabulary. So there are 'Arbus-isms' that are very familiar" – like diamond shapes and)…And he went to great lengths to bring out great material…nurturing its best qualities. He was very interested in the idea of rough and tactile surfaces…and in contrast."
And this is the method Neave has used in pulling together Lapchi's Andre Arbus collection. He's looked to the original for guidance and inspiration, and created a range of patterns. All are respectful, even reverent, yet they vary in the extent to which they take liberties with Arbus's original works. The new line includes two iconic Arbus carpet designs and seven interpretations. Some have borders, others repeating patterns, and some are overscaled asymmetrics. They satisfy a wide spectrum of contemporary needs. Best of all, they're chic, elegant and beautiful.
Atelier Lapchi
809 NW Flanders Street (@ Park)
Portland, OR 97209
503.719.6589
Open M-F 10-6
Sat-11-5
(Closed Sundays)