Q & A
The Mitchell Gold + Bob Williams Equation
The dynamic furniture duo swung through town for a springtime meeting with designers.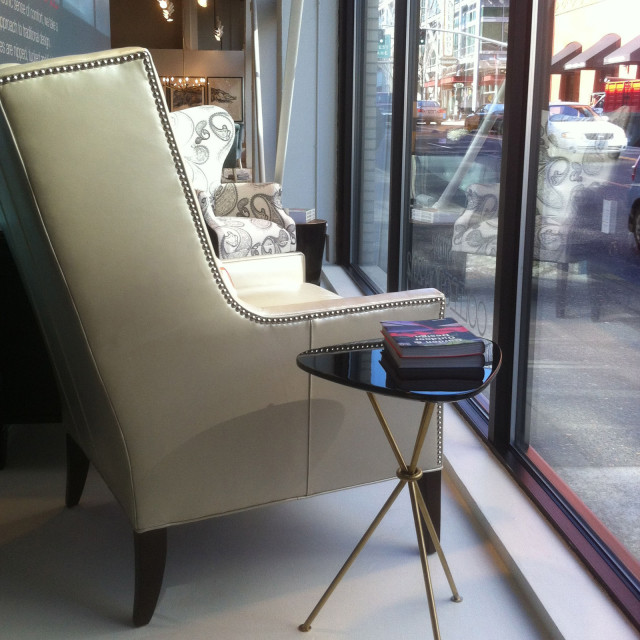 Two men stopped into Portland the other day, on their way from who knows where to LA. They were here to check in on the store that bears each of their names: Mitchell Gold + Bob Williams. That's how they always spell it, with a "plus" sign rather than the word "and" or the symbol "&." The visual branding brings to mind a mathematical equation: Mitchell Gold plus Bob Williams equals… what?
The answer to this seemingly elementary mathematical equation is only deceptively simple. These two have the right answer to Portland's interior design problems, and in this case, the whole is greater than the sum of parts.
Sales at the store, which peers across West Burnside at 11th Avenue, on the cusp of the Pearl District, are up 45% over last year. And Mitchell and Bob were happy last week to chat with designers and other locals who came by for an informal brunch and to see what was new for spring.
I had the chance to sit (in a display window facing Burnside, actually) with "the boys," as I've heard them affectionately called, and hear about their business, their philosophy, and how sofas can help a guy when he meets his future mother-in-law. Our conversation has been edited here for space and clarity (just like all good interior designs are).
KB:What's new in the store?
MG:"The new collection is spring, and it's softer and brighter than we do for the fall. Orange and shades of orange like persimmon have really become a good accent color. It really makes a home look a little more festive and brighter. So that's one color sense that's really great for us. The other is [by the 10th Avenue entrance] a little raspberry and white Ikat that's really pretty, with a little pink thrown in… Our spring feeling… is not overwhelming or jarring.
We have some great new artwork. One of the things we've done in the store is frankly not done cheap art. But people who may be shopping in our stores may be intimidated by galleries. And the more we've been to galleries, the more I feel like…you walk in, there's no prices, you have to ask, you're intimidated, it's uncomfortable. So we've tried to find really nice original artwork and the price is right by it so people can see it."
Other new offerings for spring: chairs upholstered in two fabrics, inside/out style; Black Label collection of sofas and chairs, made extra deep and large for lounging, reading and generally relaxing.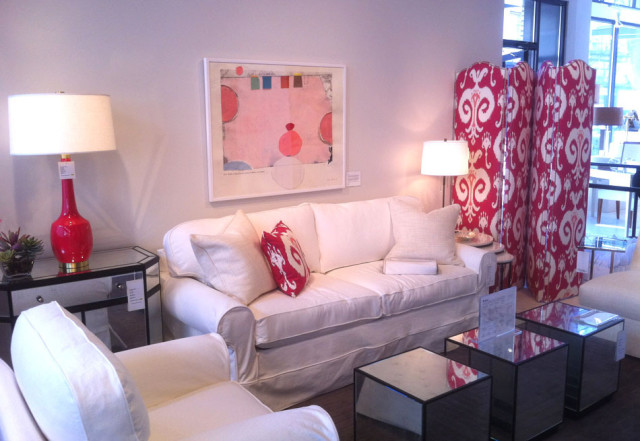 KB: What's the secret to buying furniture that you'll like for a long time?
MG: "Change a few pillows, change an accessory…paint a wall. I mean literally, it costs a gallon of paint."
BW: "A lot of our fabrics tend to be a little bit more on the neutral side. And that's like a pair of jeans: jeans in fall, in spring, winter, summer – the way you mix and match them, and we feel like the upholstery is the same way. It's all the other little things that you mix with them that will lean them toward one season or the other. And it's a very subtle thing…our showroom – it's never what we call a revolution; it's just an evolution, from one season to the next. And we realize that people don't buy everything all at once."
MG: "I find that for myself, three or four years, I want to do something in a house…changing a lampshade from white to black. In our books, we talk about those things too.
KB: Are there regional differences in Portland compared to other places?
MG: "A little bit. Or it's a difference of being in town… a lot more suburban customers are coming in so we're selling bigger pieces generally to people who have six or seven thousand square foot homes. We sell our smaller scale pieces to people who have condos here. The biggest regionality is our store in San Juan – they tend to sell more white…Boston tends to sell things a little more traditional. But about 70-80% of the business here is on the more modern feel…"
KB: Do you have a design philosophy or ethos?
BW: "We want people to enjoy [the furniture] for a long time, and let it kind of grow with them as they grow. The worst thing is to think 'What was I thinking when I bought that?' We'd rather them look at it seven or eight years down the road and say, 'God, I still love that piece.'
MG: "We have always had an attitude about chairs being sculptural, being the center of the room, really looking great from every angle, so that's been an ethos for us since the beginning."
KB: How have you managed to get along as a team for so long?
MG: "We work together on everything…he takes the lead on design with his team; I take the lead on the marketing…we don't fight, we bicker…"
BW: "Oh, we bicker like the best of them."
MG: "We have meetings with our team, and Bob and I will start talking, and you can just see their body language. They sit back and they don't want to be involved! But it's healthy. It makes us explain why we like something more."
KB: "Green design is talked about a lot these days. You've been eco-friendly since when?"
MG: "You read our mission statement, which we wrote after six months (from starting the company in 1989) – the only thing that's changed is our number of employees. A month after we were in business I was up in New York, reading a New York Times, and on the lower left was a big story about the environment, and how the ozone layer was depleting. And this is 1989. And I read the article, and in it they said that the furniture industry in North Carolina was one of the biggest abusers of the environment. So Iiterally I had to go to a phone booth, and with my credit card in those days, and I called Bob and I said, 'We have a problem…' It's not that we were that big environmentalists, but we were decent people."
BW: "And in Hickory (NC) where these foam manufacturers were, you knew when you drove on that other side of town that something was different but you really couldn't quite guess, didn't know what it was. Then all of a sudden it all clicked. We knew that it was the manufacturing of this foam. You could just feel it in the air."
MG:"So we set out to find better foam, and it was an incredible bit of luck in the history of our firm. There was a company that developed foam that didn't emit CFCs…"
BW:"…and they needed somebody who was willing to take a chance."
To my surprise, I also learned in my conversation with Mitchell and Bob that furniture can help pave the way to getting along with future in-laws. As we were talking about how furniture gets handed down from one family member to another, Mitchell shared this story from his own life:
MG:"Funny thing is, my now-husband worked for Pottery Barn, 14 years ago, so he had one of our sofas he'd bought and he gave it to his mother – way back before he knew me, when I was just a picture on the wall. And when I met his mother for the first time – who's a little bit of a tough cookie, and especially because I'm a little older than her little boy – I came in and she just melted and said, 'I love the sofa.' She's had our sofa from there for 14 years, and it looks great, it really wears well."
Mitchell Gold + Bob Williams
1106 West Burnside Street
Portland, OR 97209
(503) 972-5000
M-F 10am-8pm
Sat 10am-6pm
Sun 11am-6pm
Complimentary parking validation at PMC