get dirty
New Seeds, Old Seeds
…what are you planting this year?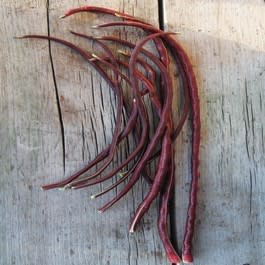 Sometimes I get in a rut, just planting vegetables that I know will do well and produce plenty of food. It's hard to risk planting a lot of new things when space is so limited. (I'm working with only about 55 square feet of vegetable garden so there isn't much room for error or for unproductive plants.)
I try to plant a few new varieties each year. But generally, I stick with a handful of tried-and-true varieties that always come through for me. These include Lacinato kale; Purple Sprouting broccoli; Sugar Snap peas; Tavera French filet beans; Ichiban eggplant; Serrano hot peppers; and Sungold tomatoes. I plant lots more but these are staples in my garden nearly every year.
This year, some of my experiments will include:
Thai Purple-Podded Yard-Long Bean from Baker Creek Heirloom Seeds. These beans can be up to 20" long and I love purple vegetables. I didn't actually see these in Thailand during my last visits but will be searching the vegetable market baskets when I return.
Thai Chao Praya eggplant=. (Baker Creek again.) These look like the medium-sized green eggplants used extensively in the varied curries I enjoyed in Thailand. I hope to find out if they're the same by growing them! Because the fruit is small, I hope and expect the plants to be productive…
Several varieties of the absolutely delicious "watermelon radish," including Chinese Red Meat from Baker Creek and also available from our own local Asian seed company, New Dimensions Seed Co.. Watermelon radishes should be planted in mid-summer for autumn harvest, rather than in spring (it gets too hot, too fast in spring and these radishes are big, and slower than the usual 25-day types). It can be hard to find these delicasies at typical grocery stores but I always find them in the produce department at People's Food Co-Op in Southeast Portland.
These two types of kale look fantastic:
- Old-Growth Palm kale, a variety selected by Wild Garden Seed to last for at least two years in the garden (through a summer). Reputedly it's extra heat tolerant and aphid-resistant and will last through the summer, growing into a small tree-like thing by the second year.
-Portuguese kale (Tronchuda Beira) from Renees Garden Seed, an heirloom kale with blue-green, paddle shaped leaves that are reputed to be more heat-tolerant than most. One cannot have enough kale!
There's lots more but these varieties have whetted my appetite.
What's going in your food gardens this year? Are you a risk-taker in the vegetable garden or do you know what you like and stick to it?
Meantime, the moment has arrived to make your final selections for spring, and actually sow those seeds. Outdoors, there are a handful of cold-hardy seeds that can be planted. And indoors, it's time to start some of the slow-growing, heat-loving vegetables like tomatoes, eggplant, and peppers. Check back next week for details on sowing vegetables indoors.
Meantime, click here to see what can be sown in the veggie garden now, along with other gardening tips.