Feature
Neighborhoods by the Numbers: Real Estate 2012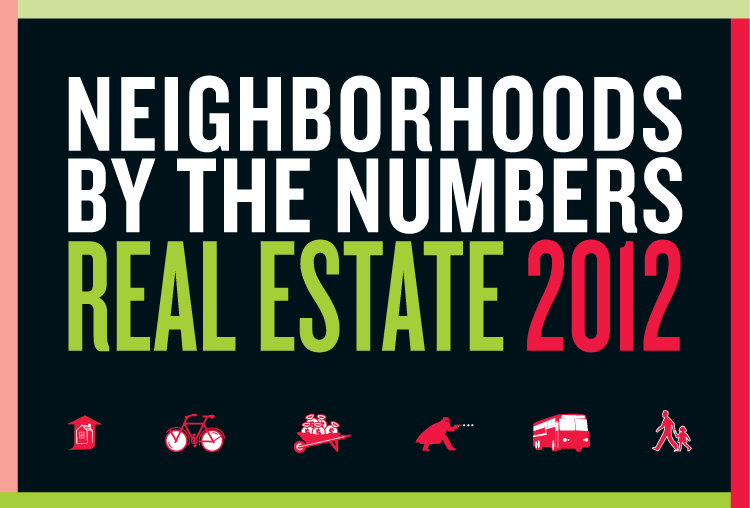 AS THE SPRING home-selling and buying season commences, most good news lies in the future. How far? Nobody knows for sure.
Yet if you scan our annual real estate grids with a magnifying glass, positive stories can be found: neighborhoods seeing upticks in value, median ages going down, median income going up. And last year, the number of homes sold actually increased by more than 8 percent in Portland and by 12 percent in its outlying suburbs. In neighborhoods that saw double-digit percentage price drops in home values—like the Pearl, Hillside, and Cathedral Park—sales increased by as much as 80 percent.
According to Gerard Mildner, director of PSU's Center for Real Estate, these trends should inspire some cautious optimism for the future.
"There are more transactions happening, and fewer people have homes on the market," he says. "That means there's some upward pressure on prices."
But the best news, Mildner says, is that the housing bubble made us wiser—and long-term investments may begin to trump opportunistic buying.
"Your decisions about owning a home should be about the neighborhood and the size of the home and whether that fits what you need. It shouldn't be about whether it's going to appreciate in value quickly."
Finding that perfect neighborhood is tough—but we're here to help.
Download neighborhood and suburb stats on everything from the number of renters and frequent bus lines to school report card grades and park sizes.
---
Methodology & Sources
Distressed properties refers to the percentage of total homes sold that were short sales and bank-owned properties. Violent crime is defined as rape, murder, robbery, and aggravated assault. Crimes per 1,000 figures are based on reported incidents of violent crime as well as larceny (theft), burglary, arson, and motor vehicle theft.
Neighborhoods Portland neighborhood boundaries represent the records maintained by Metro as of December 2011. Neighborhood boundary conflicts were resolved (for statistical purposes only) using data from the City of Portland Bureau of Planning and Sustainability. Due to overlap between certain neighborhoods, boundary definitions vary occasionally across categories.
Real Estate Information was provided by the Regional Multiple Listing Service, with analytical consulting from the Center for Spatial Analysis and Research at Portland State University's Department of Geography. All figures were rounded for legibility.
People 2010 US Census data was compiled and analyzed by Esri, US Census Bureau, and the City of Portland.
Crime Portland crime statistics are courtesy of the Portland Police Bureau and contain 2011 data. Suburban crime statistics were obtained from the offices of the Clackamas County sheriff and the cities' respective police departments. Many factors can influence the crimes-per-1,000 calculation and can complicate meaningful comparisons between neighborhoods. Because the rates are based on residential population data, the large workforce in areas like downtown and the Pearl District can distort the rates in those areas.
Parks Data was provided by Metro and the respective city parks departments.
Transit Information on MAX light-rail and WES commuter rail, Portland Streetcar, and TriMet bus routes was provided by TriMet. Additional suburban transit information was provided by C-TRAN, CAT, SMART, Columbia County Rider, and Yamhill County Action Partnership.
Walkability Data provided by the City of Portland Bureau of Planning and Sustainability. Scores are on a scale from 1 to 100, taking into account walkable access to commercial services and amenities, as well as the number, quality, and slope of sidewalks, street connectivity, and topography. Different neighborhoods can have similar scores due to a different combination of inputs.
Walk Score Suburban data provided by walkscore.com. Score reflects, on a scale of 1 to 100, how easy it is to live in a neighborhood without a car, based on the number of nearby amenities like grocery stores. A score of 100, for instance, indicates that all daily errands can be completed without a vehicle. In cases where a citywide average was not available, scores for the city center were used.
Special thanks to David Banis and Nadia Jones of Portland State University's Center for Spatial Analysis and Research