Free for All
Brits Bring the Green
English architect/academics Sarah Wigglesworth and Jeremy Till guest star this week in two free lectures at PSU.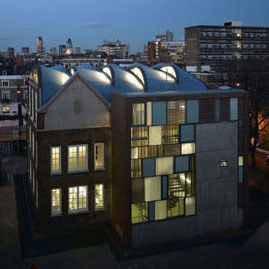 Here's a question: might it be just a teeny bit possible that we Portlanders are sometimes somewhat self-congratulatory about our fabulous quality of life and how green and sustainable we are? A little, teeny, weeny bit? If so, it's good to remember that we can learn a lot from knowledgable outsiders. The Architecture Department at Portland State University is sponsoring some upcoming events to help us do just that.
This week, a couple (literally) of British architect/educators, Jeremy Till and Sarah Wigglesworth, will be at PSU to provoke some thoughts (we hope) at two free lectures the evenings of Thursday April 19 and Friday April 20th.
Till will lecture the first night, giving a talk with the intriguing title, "First Impressions: Escaping the Fountainhead." Have you read The Fountainhead, or seen the movie starring Gary Cooper? That image of the fiercely independent architect is still with us; it should be interesting to hear the British academic Till's reaction to it. He'll be drawing from his from his 2009 book Architecture Depends, and will, we are promised, "call attention to the gap between what architecture actually is—contingent on many outside forces—and what architects seem to want it to be—autonomous and pure."
Friday night will be Wiggleworth's turn at the podium. She's run a firm bearing her own name since 1994, and specializes in "low energy and sustainable building(s) that inventively use readily-available materials." Her work runs the gamut in scale from "tiny" to "medium" (inventive and beautiful renovation/additions like the Siobhan Davies Dance Studios) to "large" master plans and urban riverside revitalization schemes.
In May, PSU will again have on campus an outsider we can hope will bring us some new perspective and not just pat us on the back for the successes we planned in the 1970s and '80s. This time the free lecture is by Thomas Auer, a German building engineer and visiting professor at Yale.
Auer's talk (Thursday May 10 at 7 p.m.) kicks off PSU's symposium Measuring Up, which intends to discuss some important questions: "Are green buildings in use measuring up to their targets? What role do building occupants play in the discussion of performance? How can research in buildings inform and improve design practice? And how can successful strategies be replicated at a larger scale?"
These questions are especially relevant at this point in the development of our city and in light of recent news that the ambitious Oregon Sustainability Center project appears to be entering the realm of past dreams rather than future realities. We'll see what some eminent out-of-towners have to offer the discussion.