plant sale
Friends of Trees Fruit Tree Give-Away (Practically)
- Celebrate Earth Day (April 22) by planting a tree. (But first, you have to buy the tree!)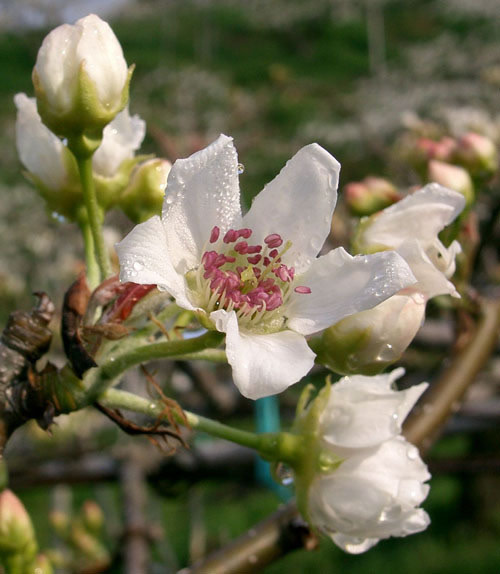 Friends of Trees is holding their annual Fruit Tree Giveaway and Large Tree Sale!
The event will be held on Saturday, April 21, at 3117 NE Martin Luther King Jr Blvd from 10 am to 2 pm. Come by and pick up some young bare-root fruit trees for your yard while supporting one of Portland's great civic organizations.
Fruit trees are available on a first-come, first-served basis, with a suggested minimum donation of $5 per fruit tree. Trees can't be reserved or held in advance – you must be present on Saturday to purchase your tree.
The trees are donated by local nurseries so FOT cannot know in advance what kinds of trees will be available. Apparently, there were many apples and pears in previous years, but it all depends of what there is an excess of at local nurseries, so be prepared to wing it. I would suggest having a smartphone available for googling varieties – or, bring a resource like The Western Garden Book or a fruit tree book.
In advance, here is a partial list of what they'll have on hand. There will be dozens of some, and only one or a few of others. Do come early to increase your chances of getting the types you want, or to scope out others that are not on the list. And read up a bit on root-stocks if your space is small. Half of keeping your tree within bounds is choosing the right dwarfing root stock. (The other half is pruning…):
Apples
Red McIntosh
Cortland
Yellow Delicious
Akane
Chehalis
Fuji
Gala
Granny Smith
Gravenstein
Yellow Newton
Melrose
Winesap
Yellow Delicious
Yellow Transparent
European Pears
Bartlett
Red Bartlett
Comice
Flemish Beauty
Seckel
Japanese Plums
Beauty
Satsuma
Brooks
Burbank
Friar
Peach
Santa Rosa
Satsuma
Shiro
Elephant Heart
They will also have shade trees available, with prices ranging from $25 to $85 per tree.
If you have any questions, contact Andrew Land at 503-467-2518.