Desirables
Furniture with an Edge
Denali brings natural and industrial edges together at its Central Eastside workshop showroom.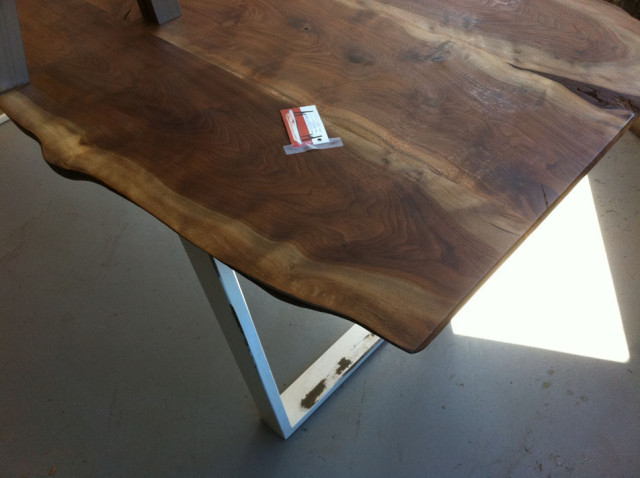 Living on the edge can mean many things; to some furniture makers, it might mean letting the irregular natural edge of a piece of wood shine through in the finished product. This style is becoming popular these days. You've seen it if you've been to Grain & Gristle in Northeast Portland.
Their remarkable and unique wooden bar is the focus of the popular gourmet pub grub spot. Built by Brendan Alvistur, the bar has smooth yet rough edges that provide nooks and crannies to sidle up to as you order another craft beer from Upright Brewing, the house brewery.
At home, you might not go so large scale, but you can get a similar effect, not just by drinking craft beer but by using natural edged wood. Such pieces are often called "live edge," and Denali Furniture in the Central Eastside is crafting its own tables, desks and shelves in this fashion.
Denali combines the live edge wood with industrial metal for most of its pieces. The look is an appealing, eclectic mash-up. Store owner Benjamin York grew up in a furniture family, starting in his teens helping his parents Mike and Mary with their shabby chic and then Chinese antique import businesses.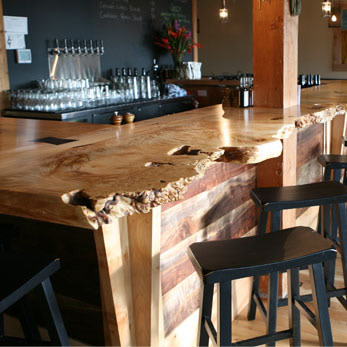 The family moved to Portland from Santa Rosa, CA about seven years ago and settled their business in the Central Eastside. And for the past four years or so, the main enterprise has been Denali, with the boss being Benjamin. His Denali store and workspace takes up the corner of SE Grand and Main, right at the entrance to the Hawthorne Bridge.
It's a great retail location, with so much drive-by, bike-by, Tri-met bus and walking traffic zipping (or moseying) past the intersection. Plus, it's in the Central Eastside Design District, the ad hoc confluence of home design-oriented stores in the unpretentious warehouse-filled blocks just across from downtown Portland.
Rejuvenation is right up the street; the more recent Bamboo Revolution shares the block with Denali – and Coava Coffee shares space with Bamboo Revolution; good neighbors, all, and all the more reason to make the area a destination.
Denali is happy to sell items ready made out of the showroom studio, but mostly they work to custom make what you need, how you'd like it. The shop is filled with slabs of tulipwood, redwood, walnut, maple and other woods waiting to be discovered and transformed into an heirloom dining table, desk, bench or other unique piece of functional art.
The size of some of the timbers is tremendous – how about an 8-foot-long table made from a single piece of apricot? And the studio space is fun to wander through, imagining what you might make of one beautiful slab after another and looking at what they have in process to get ideas.
The industrial metal bases on Denali's pieces tend to be solid and substantial counterpoints to the rugged wood slabs. Not all the work is live edge, but those pieces are most captivating. Prices are relatively affordable. A bench would be in the $400 range; a custom-made single slab table could be a few thousand, depending on the wood and many other factors.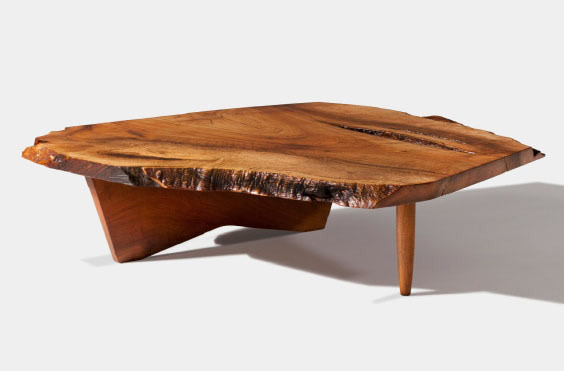 The work being produced by Denali and others doing live edge furniture (another local is the Natural Edge company in Bend) is a new take on what George Nakashima started back in the 1940s with his rough-edged organic modernist furniture for Knoll. Nakashima became famous for his sternly simple yet romantically natural wooden chairs and tables produced in the 1950s and beyond.
Though his studio was located in Bucks County, PA, Nakashima himself was a product of the Pacific Northwest, born in Spokane and raised on the Olympic Peninsula – and like so many Japanese Americans, imprisoned during World War II in an Idaho internment camp, with his wife and young daughter.
Now, Nakashima's daughter Mira runs the company (still in Bucks County), and designs a legacy line of furniture. The York family business at Denali is nowhere near that level, but they are a young company; who knows what they'll come up with, especially with creative Portland customers coming in with new ideas. And with all that beautiful wood around…
Denali Furniture
1338 SE Grand Ave
Portland, OR 97214
Phone:(503) 233-2900
Monday – Sat 10:30AM to 4:00PM