plant sale
Hortlandia!
The Hardy Plant Society of Oregon's spring plant sale – this weekend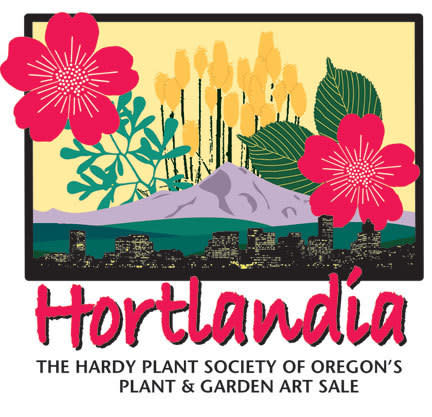 I mentioned this garden art and plant sale a couple of weeks back but I thought it deserved a second mention, since it's the biggest, most fabulous plant sale of the spring – recently dubbed Hortlandia by the Hardy Plant Society of Oregon
WHAT: Hortlandia: the Hardy Plant Society of Oregon's Spring Plant & Art Sale
WHEN: Sat April 7 from 10 am to 4 pm; Sun April 8 (Easter Sunday) from 11 am to 3 pm
WHERE: Portland EXPO Center, Hall E
The HPSO opted to stop running the fall plant sale (no matter how hard ardent gardeners try, the public still prefers to buy plants in the spring, although though autumn is a great time to plant). Thus, for the time being, there's just this one magnificent spring plant sale run by the HPSO per year. Yes, it can be crowded some years around midday, but it's a priceless opportunity to access the knowledge, expertise and plants from the best nurseries the Pacific Northwest has to offer.
Needless to say, the plants are fantastic – visitors from other parts of the US, and other countries, see what we have at these sales and go weak in the knees. But just as great as the plants is the opportunity to speak directly with the people who grow the plants. Many vendors at this sale are wholesale-only – except for the occasional plant sale like this one. Sometimes, the person selling the plants is actually the one who collected the seed of the very plants you're admiring on the tables, so there's no better person to whom you could direct all your questions. So go early and give yourself enough time to look at plants and talk. And keep a notebook and pen handy.
Here are some details about this year's show:
1. The Easter Bunny may make an appearance Sunday morning.
2. Admission is free but there's an $8 charge to park at the EXPO center. Take Trimet, carpool or ride your bike to skip the fee. (But make sure you have a way to carry your goodies home.)
3. The American Primrose Society will hold their national conference and show alongside the sale. Even if you think you aren't into primulas, you'll likely discover the genus is far more interesting than you might have imagined.
4. There should be primula vendors at the Primula Society Show, and there are always some lovely primulas available at the HPSO plant sale, too. But I would be remiss if I didn't mention that Annie's Annuals has a spectacular selection of 38 lovely and unusual primulas. But that's on-line only – the paper catalog only shows one.