Desirables
Modern Elegance, Modest Restraint
Altura crafts furniture that transcends its Northwest upbringing.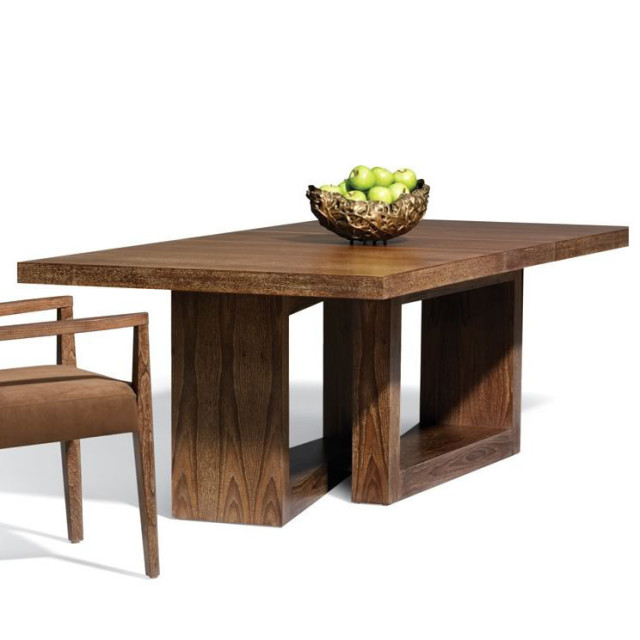 Amidst the funkiness of Portland's North Mississippi neighborhood, across from the gravel lot with the Waffle cart (and its picnic tables and chain link fence), down the street from the Rebuilding Center (home to all things salvaged and recyclable), there is an unassuming building in which a group of (mostly) men go about the business of making elegant, understated furniture for the ages.
It's the world headquarters of Altura, the New York City born, Portland raised furniture company owned and operated by two Portland immigrants, Jeff Behnke and Roland Zehetbauer. Actually, it's their only space: office, design studio, workroom and inventory warehouse for all the furniture they make, whether it's in the wood-slabs-drying-out stage or the ready-to-ship stage.
Jeff Behnke started the company in New York City, in the early '80s, after furniture design school in Rochester. Roland moved from Austria and joined him on West 26th St. in Manhattan. The two men came here in the late 1990s, first Roland, then Jeff deciding to reunite with his former work partner and bring Altura west. The building they are in was just being built, but they signed on for the space, and quickly decided to buy it.
"Portland sure has changed – to our benefit," says Jeff. When they moved in, the Rebuilding Center didn't even exist. What has been the super popular Por Que Non restaurant for years now was still Grandfather's Deli, with its not-to-be-missed mirrored glass storefront. Nu-Rite grocery and the Sunlan light bulb store up the street were the commercial neighbors.
Now, Mississippi is a shopping district destination, representative of all things Portland (and Portlandia, before that show existed). It's not a stretch to choose to walk the several blocks from North Skidmore down to Fremont – and even around the corner to Grand Central Bakery or down the hill to Liberty Glass (Lovely Hula Hands in an earlier identity for the little pink house).
As the neighborhood has changed, so has Altura, but just as slowly, sensibly and organically. Their high quality and refined style have stayed the same, but the furniture lines have gradually grown as they've made minor design discoveries bringing a subtle, crafted character to new pieces.
The team of 13 working at Altura is hands on throughout the production process; inspiration can come at any step of the way. The Arris line, for instance, came out of Jeff eyeing a butterfly joint, the angular piece of wood that is inserted between two slabs, and using that angle to edge into the trim of a cabinet.
Once pieces have been introduced, customers have requested certain tweaks and features that have spawned further expansions to the product line. All the pieces are custom-ordered (Altura sells through designers, rather than at a retail store), making such experimentation a natural form of what people tout as crowd-sourcing in this digital, social media age. The lazy Susan set into the Nexus table, for instance, was a client's idea.
Other tables have bases that can "nest" in their closed form, but move apart to allow for up to three leaves to be added, extending the table surface and transforming the base into another form entirely. The Oblique is a beautiful example of this; the table goes from 72" long to 108" as the base slides apart and interestingly shifts its profile.
The inventiveness of Altura's furniture is well thought out and never showy. These are pieces that you won't outgrow, but that you might pass down to your grandchildren. It's nice to see Altura growing, yet not outgrowing its spot on North Mississippi and Fremont; they're planning to expand yet again on the site. Jeff, as a former New Yorker, has been pleasantly surprised at how helpful the city's Portland Development Commission has been in allowing them to grow over time. All in all, Altura is a Portland story that needs no exaggeration or mockery to be interesting.
Altura Furniture
3500 N. Mississippi Ave.
Portland, OR 97227
503.288.2228