Desirables
No Whining About the Furniture
Once the wine is gone, Vinoture makes furniture from the barrels.
Imagine this: you have 100 empty wine barrels; what do you do with them? Ian Crawford had that dilemma, and now he's answered the question twice. The first time was when he got the barrels in the first place – it wasn't an accident. They were props for a big party (he was at the time a professional party planner).
But what about the after party? This time, his answer to the question was: make said 100 empty wine barrels into furniture, of course!
The "of course" is my elaboration on the "eureka" moment, but it does seem like an obvious solution now that we can see the Vinoture line of furniture Crawford has created from the old barrels. He showed his wares recently at the Better Living Show at the Expo Center. The creatively recycled goods look handsome, smart and just right for many domestic uses from kitchen island to art studio to child's bedroom.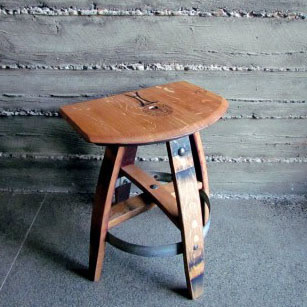 This entrepreneurial young man from Montana makes the basic stools in three heights priced from $200 to $400. They come with wooden seats or with sculpted metal, industrial-tractor-style seats. In all cases, the bowed form of the wooden slats that were bound together into barrels are gracefully used to aesthetic advantage in the pleasing lines of the stools.
The Vinoture line also includes a coat rack, sconce, and decorative spheres made of just the metal bands that bound the wood of a barrel together. Each of the designs is an inventive but not kitschy reuse of the sturdy barrels in which our Northwest wines are aged.