Gardening Books
The New Western Garden Book
This new edition is fresh, updated, and definitely speaks to the modern gardener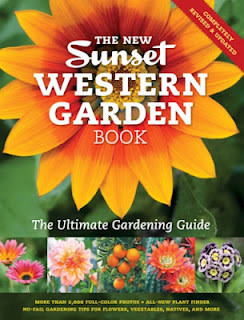 Most local gardeners' first experience looking up a mystery plant in a book involved the renowned Sunset Western Garden Book. Now in its ninth printing, this hefty volume has been the go-to gardening guide for western gardeners since 1954.
Western Garden Book, baby, you've come a long way! This new edition – just out last month – is nothing if not ecologically driven. The text is totally refreshed, with proper emphasis placed on contemporary issues of deep relevance to western gardeners, including climate and climate change, sustainable gardening, water conservation and edible gardening.
Open the book up and look inside the front cover: you'll see a roster of some of the West's most knowledgeable horticulturists, botanists, breeders, nursery owners and garden writers who were responsible for the plant descriptions, as well as captions and solid information on the distinct regions that make up the West, as far north as western Canada and including Hawaii and Alaska.
The new version also has about a thousand more plants listed than the last edition, and the line drawings have been replaced with some 2,000 color photos. That's a great improvement, if you remember the older versions with line drawings which were, in my opinion, nearly useless. It looks like there is at least one photo for each genus listed, which is helpful.
Here's something neat about the book: let's say you want to offer plant advice to your sister in Petaluma – or Anchorage, for that matter. You can check out the map and learn a bit about the plants that do well there. Map geeks, beware: it's pretty fascinating to peruse the 17 pages of climate zone maps…
Perhaps one of the most useful features is the Plant Finder, which provides lists of plants for specific locations (shade, under oaks, wind-resistant etc); Earth-friendly plants (for waterwise gardens, damp areas, to attract beneficial insects); and for special design effects (such as flowers, fragrance, for pots, etc). Within each category, listed plants are organized by type (perennials, ground-covers, shrubs, trees, etc). There's an on-line version (listed above), as well as an excellent 78-page paper version towards the front of the book.
This is a great resource for anyone who gardens in the West, whether a rank beginner who needs to learn and have a resource handy to look plants up while shopping at the nursery or for more experienced gardeners who want an occasional reference and could use the Plant Finder to jog the memory from time to time.
Sunset Western Garden Book, 9th Edition retails for $34.95 in the US (but is available for less via the above link)