free stuff
Win Eco-Friendly Gardening Books
check out this fabulous Timber Press drawing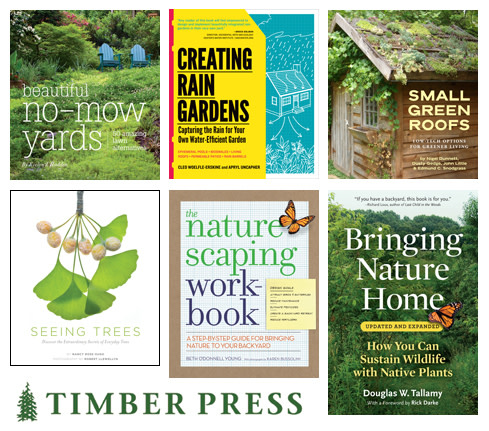 This week, visit the Timber Press website. Timber is holding a drawing to win six superb eco-friendly gardening books. Just click on over and enter a comment on their Timber Press post – here – by 5 pm Pacific Time on April 27, 2012.
One of the books on offer is The Naturescaping Work-Book. I received a copy of this book a few months ago from Timber Press but only just cracked it open to take a look inside. It's impressive! Written by a Corvallis garden designer who knows her stuff, the book is brimming with practical features that warm my heart as a fellow designer and gardening coach. I appreciate her list of tool must-haves: she recommends particular tools including the beloved hula hoe and the hori hori (if you have never used it, I suggest you run to a local nursery and get one), many of which are tucked in my own tool bucket. She also covers essential gardening basics from planting a tree and caring for an organic lawn to maintaining a birdbath and feeder. She also addresses ecological design, from the philosophical foundations to choosing sustainable materials.
True to its name ("workbook"), there are plenty of worksheets to fill out so that, after going through the book, you have some concrete ideas to work with. Basically, this book can teach someone who has never gardened before how to do many of the techniques that a professional organic gardener has learned over 20 years of dedicated work. I highly recommend this book, for beginners and even for anyone who has dabbled in gardening but hasn't known how to organize or plan a garden that is environmentally savvy.