plant sale
Clackamas County Spring Garden Fair
the last major plant sale of the spring coming up this weekend!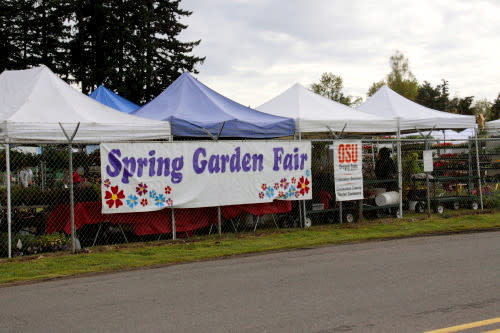 The last major plant sale of the year is coming up this weekend – the 28th annual Clackamas County Master Gardener's Spring Garden Fair. It's a huge event, with 202 vendors and a slate of activities ranging from classes and workshops to booths where you can have your plants potted up for you and your questions answered by Clackamas County Master Gardeners. What else? There are cute little red wagons for you to pull around (or schoolkids who will do it for you, for tips – how cute is that?) and a plant check area for the enthusiastic plant shopper! Also, soil testing (go to the website for details on how to collect your sample), coffee and snacks, a raffle and more.
WHAT: CLACKAMAS COUNTY SPRING GARDEN FAIR
WHEN: Sat May 5, 2012 from 9 am to 5 pm and Sun May 6, 2012 from 9 am to 4 pm
WHERE: Clackamas County Event Center in Canby
COST: Admission to the Event Center is $3 (free for under 16) and parking is free
There are plenty of everyone's favorite specialty nurseries, as well as some that rarely make the trek in to other Portland plant sales. There are also soil, pot, gadget and designers' booths so there will be plenty of folks to talk with and learn from.
I love this feature: the "ten-minute university," with short classes on various subjects:
Saturday, May 5, 2012
10:00 Pruning Trees and Shrubs
10:30 Growing Tomatoes
11:00 Growing Blueberries
11:30 Starting Your Vegetable Garden
12:00 Starting a Worm Bin
12:30 Raised Bed Gardening
1:00 Planting Tips
1:30 Growing Edibles in Containers
2:00 Growing Tomatoes
2:30 Fruit Tree Pruning
Sunday, May 6, 2012
11:00 Pruning Trees and Shrubs
11:30 Growing Blueberries
12:00 Container Planting
12:30 Starting Your Vegetable Garden
1:00 Growing Tomatoes
1:30 Starting a Worm Bin
2:00 Making a Hanging Basket