Desirables
In the Garden of the Curious and Unique
Yesterday and Tomorrow, but right for today too.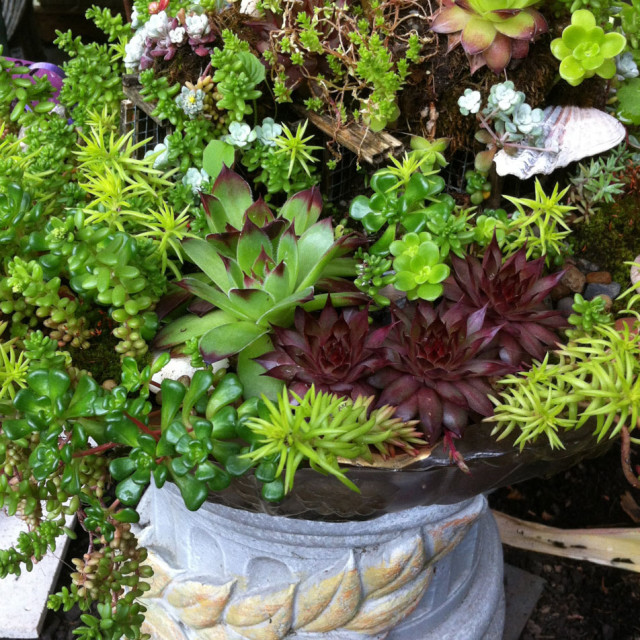 Walk into Yesterday and Tomorrow's rambling outdoor garden, and you'll find yourself in the eclectic and charming company of a gathering of statues: gargoyles, buddhas, deer and squirrels, cherubs and gnomes, St. Francis and Magdalena all hang out with equal comfort and ease.
The garden inhabitants rub shoulders with birdbaths, wall art, chairs, tables and benches, ancient watering cans and even old sprinkler systems. They're all part of this unique home and garden store's outdoor showroom for a huge range of garden ideas, vignettes and oddities. It's a place to wander when you're not sure what you're looking for.
Proprietors Helen and Jacq (who live above the store) seem to subscribe not to any philosophy of tightly curated fussiness, but rather to a sort of anything goes tolerance, a welcome appreciation of all things gardeny and delightful. Theirs is a garden of good vibes.
They find items at local estate sales and artists' studios, so you never know (and they never know!) what you'll find. Like any good garden, it's always in a state of evolution.
They're also dealers for some national lines of garden-hardy furniture and statuary, and feature these in the garden, but not in a rigidly designed way. Cricket Forge tables, benches and wall art come from Durham, NC, the sinewy sensuous shapes made of steel finished with weather proofing to withstand outdoor use without oxidation.
Nichols Brothers Stoneworks provides Frank Lloyd Wright-licensed planters and statues. They also produce classic birdbaths and a full range of traditional garden creatures, from cherubs to frogs, gnomes to kittens, turtles to bunnies. Of course, also dogs, like the sleeping spaniel puppy and dog strumming a guitar. Not to be forgotten, serious St. Francis at 32" tall, Magdalena at 41" tall (each about $200). All the Nichols Brothers statuary is available to order in different finishes – terracotta, weathered bronze, copper patina, antique grey and dark walnut.
In the garden (and also online) Yesterday and Tomorrow features mosaic and glass artists, including Andrew Holmberg, Missy Lambert and Jan Lowery. Fairy Dust Creations' Jennifer Sadler provides some of the garden's highlights, though, with her intricate, botanical vignettes. They start at about $50 and come fully ready for display, their lush and succulent greenery planted in reclaimed urns or even on a rusty metal chair. The detailed mini-gardens deserve close attention.
Yesterday & Tomorrow 
7506 N Albina Ave?
Portland Oregon 97217
(503) 459-3230
Open Wednesday to Sunday 10:00 am to 6:00pm ?and by appointment
Fairy Dust Creations by Jennifer Sadler; custom orders, call 503-360-7891.