DIY
LOL with Lamp-In-A-Box
Make your own designs or pick an old favorite, from Barbie to the Beatles and beyond.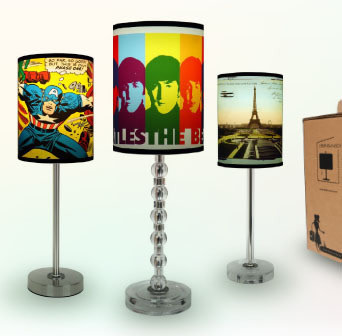 Let there be light – and laughter too. These two necessities of life come together conveniently in Lamp-In-A-Box packages you can order online or find at local shops. Both concept and execution are simple: a cylindrical lampshade printed with pattern or image of your choice, plus a plain base of brushed nickel or tubular glass and crystal. The look is generic modern in a good way, making the expression of the shade all the more powerful.
The Lamp-In-A-Box company grew out of lighting designer Daniel Cytrynowicz's earlier lighting company, founded in Culver City years ago under the name Maura Daniel. His new, fun product is perfect for the Internet age of personalization. LIAB's website walks you through creating your own lampshade if you're an individual customer; retailers can order in small runs of whatever specialty suits their market. The Oregon vintage postcard lamps show up in local stores, for instance (probably more often than Alabama cards do).
Some of the graphics are better than others, but they're all authentic, from a really bright purple W for the Huskies fan to the crazy colorful cartoon Beatles as they appeared (along with the Blue Meanies, Jeremy Hilary Boob, Ph.D., Chief Blue Meanie, Max, and Apple Bonkers) in the Yellow Submarine movie.
Just in time for the new Avengers Marvel comics movie are a full line of super-heroes: several images of Spider-Man, Iron-Man, Captain America and even Silver Surfer. For those wondering where the super-hero women are, you'll find Spider-Woman, Medusa, and She Hulk, as well as some forlorn ladies looking for love ("Please don't let me be a… Spinster!" and "By Love Betrayed!" proclaim two of the panels featuring the less than heroic ladies).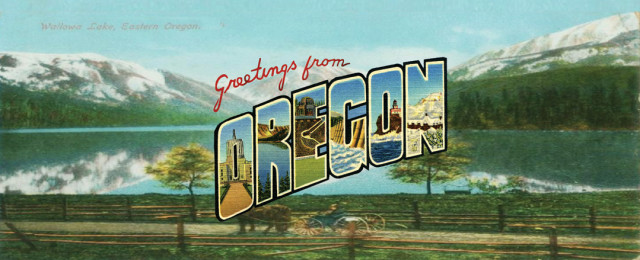 More subtle emotions are expressed on the beautiful vintage postcards and food labels, travel stickers, maps, cityscapes and original patterns by artists like Ruben Esparza and James Yang. All these choices might pale though compared to your own artistic efforts: design your own shade by uploading digital images, from a single image to a grid of 24. The lampshades are $29, with the base another $20 (depending on type of base).