Out and About
Rummer Homes + Mod Fun
A high-low weekend to revel in 20th century modernism and kitschy Americana.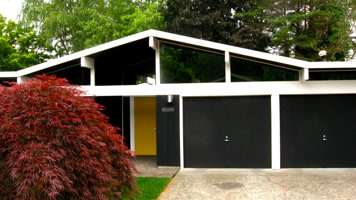 "If I could turn back time." That's a sentiment Cher sang famously, but most of us have had the feeling at one time or another. Well, the weekend of June 2-3 will be our collective chance to turn back time to the mid-twentieth century with a tour of Rummer Homes and a retro slide show by Americana kitsch-expert Charles Phoenix.
The home tour and the slide show provide a double dip into an authentic mid-century style that predates Hipstamatic, Instagram, Mad Men or Dwell magazine. Phoenix's slide show is chock full of Kodachromes – originals he's found at thrift stores and yard sales, not smartphone photos digitally altered to look old.
The Southern Californian pop culturist will be giving his appreciative, humorous take on favorite mid-century marvels of Americana, including his "Best of Portland" guide of local landmarks, legends and lore. (Preview: according to his website, Charles raves, "Portland is one of my fav cities to explore. Americana abounds here! I can't wait to have a 'Dutch baby' at the Original Pancake House then go skating at Oaks Park, the "World's Biggest Roller Rink!'"
"Rummer homes" (or "Rummers" as they're often known in the Portland area) were essentially the Portland versions of a now-classic mid-century modernist house type built by the successful developer Joseph Eichler in Southern California. Rummers blend indoor and outdoor spaces and share many other Eichler-type features. (So did many other homes of the time, including the house that Steve Jobs grew up in and remembered fondly, according to Walter Isaacson's recent biography; evidently Jobs and Isaacson thought the pre-Apple-ite's childhood home was an Eichler, but it was not.)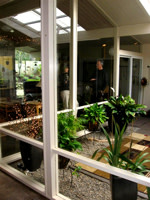 A typical Rummer is also a veritable mullet of residential modernism: business in the front (closed and private wood walls and garage, recessed entry door), party in the back (floor to ceiling windows opening to landscaped garden). Wooden post and beam construction supports the vast walls of glass facing garden spaces and central, open-air atrium. Flat roofs cover the one-story spaces except where a central gable will pop up and create a high-ceilinged, clerestory-lighted main living space.
These houses are much revered, well built and amazingly adaptable to various sites, living styles and even décor. The houses on the tour (there will be at least eight open) are all in the Bohmann Park tract of the Garden Home district of metro Portland; the neighborhood boasts the highest concentration of Rummer homes in the metro area. Within four blocks, Rummer built 63 of his houses in the mid to late '60s.The open houses on the tour will include Robert Rummer's own house, and he and other homeowners will be available to guide us visitors through these fab spaces.
Historic Preservation League of Oregon
$40 per ticket (HPLO Members $35)
Saturday, June 2, 10am – 4pm
For more on Rummers, see historian Jack Bookwalter's interesting article, Rummers in Oregon: A Builder's Legacy of Mid-Century Modern Homes.
Slide show by Charles Phoenix is 3 p.m. at the Hollywood Theater; tickets $30 ($20 for HPLO members); save $5 if you get the package deal of house tour plus slide show tickets.