get dirty
What To Do About Slugs
fascinating creatures, but not so great when they're devouring your plants…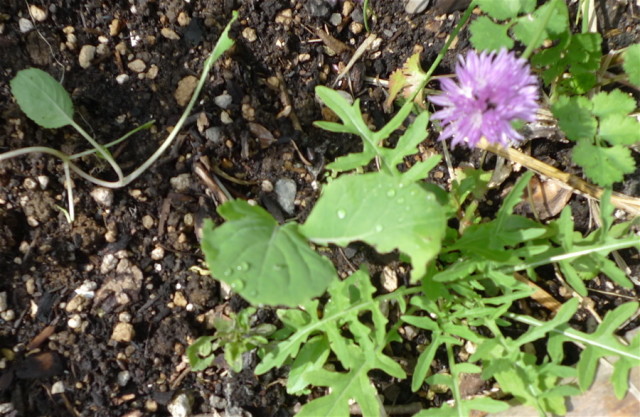 Killing slugs seems like a brutish thing to do. We should live in peace with all creatures – cohabit with other forms of life in our gardens… right?
Not me! After the concerted effort I put into starting seeds in spring, I go all un-PC when it comes to the European garden slug.
Well, sort of… instead of using methaldehyde (commonly sold as Corry's Slug and Snail Death, Deadline, and Slug-Tox) – a toxic chemical that can kill birds and pets if ingested – I use iron phosphate (Sluggo, Escar-Go and Worry-Free products). Iron phosphate kills molluscs but is pet and bird safe. Best of all, it is apparently as effective as metaldehyde baits for controlling garden slugs. It's just a matter of using it properly.
Long-used in Europe and registered in the US since 1997, iron phosphate slug and snail baits are sold in pellet form. You sprinkle small quantities around plants – just 4-8 pellets per square foot of soil surface, according to OSU recommendations. The iron phosphate (1%) is blended with a flour base which attracts the slugs. Apply the slug bait when temperatures are at least 50F, with night temperatures above 42F. (Now is a great time for it.) Soil should be damp or wet, to entice slugs up to the surface of the soil. (Remember, slugs live underground, where they feed when there are good roots to eat – they come up to the surface when the soil is damp and light is dim to feed on foliage.) If it rains torrentially on the pellets, reapply the Sluggo as soon as possible.
When do you use bait? Time it with the slug and snails' life cycle – apply in spring and fall.
As the rains begin in late September to early October, slugs become active and lay eggs soon after. Catch them before they lay eggs and you'll keep numbers down on a fresh generation of slugs. Bait again a few weeks later in mid- to late October, to catch the next generation of hatchlings. Remaining eggs will hatch in late winter and early spring, so bait again right as you sow seeds outdoors and starting a week before you set out transplants, February or March. And continue periodically throughout the spring (like, now!) to keep the population down.
A couple of other time-tested techniques… head out at night with a flashlight and scissors and… snip them in half. Yes, it's gross but it works. Some friends have been known to put kids to work, at the rate of 5 cents per slug. Or bait with beer traps: just set out shallow lid jars or pans of beer (cheap brands may work better than quality microbrew) around the garden. Set the rims level with the ground to make it easy for slugs to crawl in. In rainy weather, set covers over them to prevent dilution. Refresh the beer after about three days or if it becomes diluted by rain.
There are plenty of preventative measures, too:
Minimize slug habitat: Wet, slimy areas are the best hiding places for slugs so if you have trouble with slugs, keep yard debris, leaf litter and other slug habitat away from young seedlings or more vulnerable plants like hostas or toad lilies. The area underneath stones, pavers and plastic plant trays are also great slug habitat.
Try chickens (or ducks): There are a million reasons to keep chickens including that their scratching and digging helps disrupt the slug life cycle. They probably eat slug eggs, and while my chickens obstinately refused the slugs I tried to feed them, friends have told me their chickens do eat slugs. And ducks positively feast on them. Let them out early in the morning or on wet days to increase the likelihood of slug-poultry encounters. (Of course, you want the chicken patrol to happen before you set out your fragile seedlings, and chickens will scratch up your seedlings as quickly as you plant them.)
Use copper tape around the top of raised beds. The copper tape deters slugs from crossing as it apparently gives them an electrical shock. Naturally, it's important to use bait inside the copper taped area. Also, be sure foliage doesn't lean from outside the tape to the area inside, thus forming a bridge for slugs to travel without crossing the copper tape. Copper tape is not cheap but kept clean and free of debris, it lasts indefinitely.
Finally – and perhaps most importantly – expect a certain amount of damage. Plant a little extra so that you won't be crushed if a few of your plants are eaten.
Resources:
Most local retail nurseries carry copper tape and iron phosphate products. Sluggo is the most common brand in our area.
Further Reading:
Oregon State University's gardening info on slugs
Get Rid of Pests With Home Remedies
Want to geek out on slugs and snails? Read this for information and further links. Or this.
Believe it or not, if you're on Facebook, you can search "snail and slug research and extension" and see some of the latest research and trivia relating to our little mollusc friends.
Finally, check this out: a strangely moving video of two tiger slugs mating. It's amazing!