Desirables
Solabee Buzzes
Beautiful florals and botanicals to go in NoPo.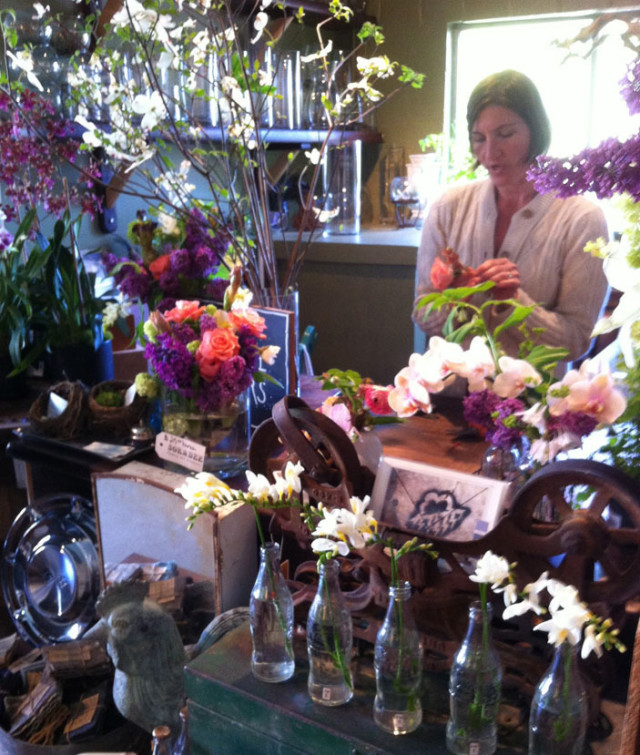 Boys and girls deserve equal opportunities – at least last time I checked. So it's in that spirit – as well as in the interest of good design – that we're MAXing it back up to the Kenton neighborhood and jogging down the block from Paul Bunyan to visit the gals who run Solabee Flowers. They share space with Boys' Fort, subject of a visit last week, and it wouldn't be fair to give the boys all the attention.
Actually, Solabee, Boys' Fort and the brother-sister duo that owns Salvage Works all share the delightful retail space. They're part of what's naturally grown into what they're calling the Kenton Collective, as Sarah Helmstetter of Solabee explains. Besides the three businesses sharing the retail shop on North Willis, there's also Bamboo Craftsman just a few steps down the street.
It's a beautiful thing when beautiful and likeminded things and people come together, and Solabee certainly contributes more than their share of beauty to the collective simply by virtue of working with gorgeous flowers and plants. Both Helmstetter and co-owner Alea Joy put in years as flower shop managers elsewhere before teaming up and setting out for themselves about a year and a half ago, and their experience shows through.
Their exquisite touch with the cut flowers and living plants is a perfect complement for some of the rough, random items found by Salvage Works (they produce wall art and other pieces in collaboration), so the collective whole is often more than the sum of its parts. Plus, some of the flowers at Solabee come from the acre and a half or so of land that Helmstetter's parents have near Gresham.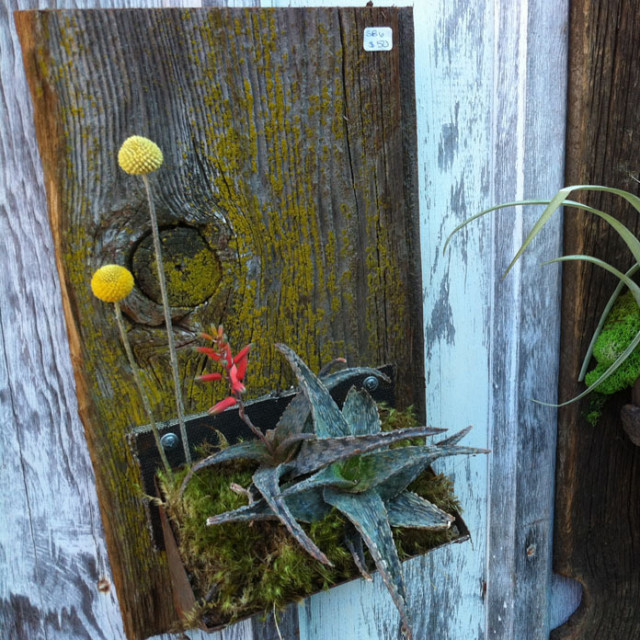 Solabee plans to expand in a year or so to the warehouse/garage next door, which is presently a derelict mess. But for now, the shared shop is a lovely and welcoming home. And it's certainly a step up from Solabee's original retail spot around the corner on North Denver. That shop was about the size of a postage stamp, without running water near their work table. Now they have a sink, and a work space (a huge walnut table built by Sarah's uncle, if I recall correctly) big enough to teach classes around as well as to create the beautiful arrangements they prepare for business and restaurant clients, weddings and other special events and places. And for you when you stop by soon.
Once you stop by, you will want to return. With beautiful "florals and botanicals," you just can't ever get enough – or at least I can't! (A new book The 50 Mile Bouquet features Solabee as well as some other Portland floral designers, but it deserves its own future column…see, I just can't get enough.)
Solabee Flowers (with Boys' Fort and Salvage Works)
2030 North Willis Street
Portland, Oregon 97217
Monday-Saturday 9-6
Sunday 11-4
503.307.2758