what's new
Specialty Annuals
keep an eye out for unusual annual flowers this spring!
Willamette Valley gardeners are so lucky. We're surrounded by some of the most interesting, edgiest micronurseries in the country, as well as more old-fashioned shrub and flower growers than you could shake a stick at. And it's all within an hour or two of Portland.
But while we have wonderfully adventurous tree, shrub and perennial growers in the region, there are fewer local options for unusual seasonal plants. (Seasonal plants = annuals and tender perennials that are grown for seasonal display.)
Why the dearth of uncommon annuals?
To make growing annuals profitable, most growers stick with tried-and-true varieties that flower young and reliably and that are known sellers. Growers have little incentive to produce uncommon plants that don't stimulate impulse purchases. So while it's easy to find colorful flowering zonal geraniums, calibrachoa and supertunias, impatiens and begonias, you have to hunt and peck a bit for unusual seasonal plants.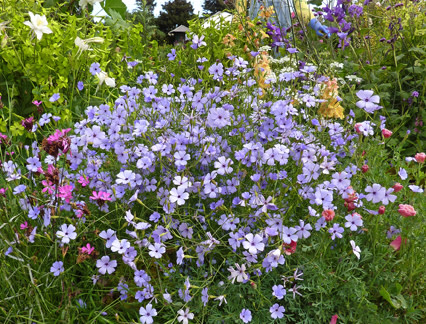 Examples of uncommon seasonal plants include fragrant honeybells (Hermannia verticillata); double, dark maroon breadseed poppies; the lovely blue pollinator-attractor, Phacelia; or apple green flowering tobacco. I think of them as "surprise plants". They don't necessarily look perfect in little pots on nursery racks – maybe they need to reach a certain height to start blooming, or are wispy weavers instead of bushy mounds, or just don't do much til you get them in the ground and they start growing. Some simply aren't well enough known by gardeners for wholesalers to risk growing more than a couple hundred plants per year.
If traditional seasonal annuals like marigolds and petunias aren't your thing, these dramatic and unusual seasonal flowers are just the ticket.
The best and most adventurous seasonal plant wholesaler in our region is Log House Plants. They sell many typical annuals, perennials and vegetables but they have also created a niche for the unusual. They're one of the only sources I've found for the Chilean glory vine), as well as one of my favorite fragrant container plants, honeybells. Their plants can be found at several local retailers, including Garden Fever Nursery on NE 24th and Fremont.
But the largest and indisputably the most adventurous resource in the country for specialty annuals and seasonal plants is Annie's Annuals in Richmond, CA. Owner Annie Hayes puts out a wildly inspiring catalog every spring, brimming with great photos and wonderful ideas for combining these annual flowers and creating colorful garden displays. Many of the plants she sells make great container plants. The company's specialty is unusual, heirloom and downright rare seasonal plants, but they also sell perennials, bulbs and even some woody plants. They also carry a great range of native Californian and West Coast native wildflowers.
Unlike the latest varieties of petunias or geraniums that have been bred for flower color and size, many of the unusual seasonal plants are blowsy, old-fashioned varieties (species or selections of a species, not elaborately engineered hybrids) and, as such, they often provide a rich source of nectar and pollen to insects and hummingbirds.
Check out this slideshow to see some of the wonderful, blowsy flowers in the nursery's display garden. See the catalog here (use the "plant search" function, entering in "annuals" to see the list only of seasonal plants). For fun, read Annie's tips on How to Have a Fabby Garden.
And – newsflash! – I just saw on the Portland Nursery's Facebook page that their Stark Street store (5050 SE Stark St) has just received a shipment of plants from Annie's Annuals. Check it out – you might just find some unusual seasonal plants you can plant right away!