get dirty
When to Plant Veggies…
There's plenty you can plant right now but hold off just a little longer on the warm-weather crops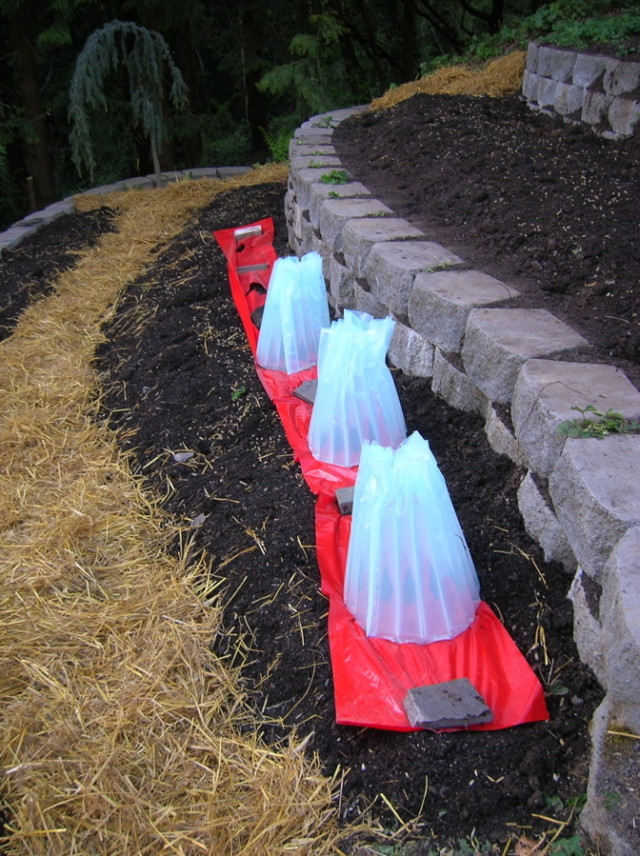 Go ahead – plant lettuce, spinach, Asian greens, mustards, and root crops like carrots, beets and radishes. But hold off on the corn, squash, pumpkin and beans, which need warmer soil temperatures. (Though you can start them indoors now.) And notwithstanding all the lush, greenhouse-grown tomato and pepper plants filling up the racks at local grocery stores and nurseries, it's still too early to plant them outdoors in the garden.
My tomatoes, peppers and eggplants are all still indoors, under lights, where temperatures are steady and the light is consistent. I won't be putting them out until this sunny week has warmed the soil up a bit. This weekend, I'll whip out my handy soil thermometer (available at most retail plant nurseries) and see whether soil temperatures are high enough. But even if they are, I'll check the forecast for nights in the 40s. Those are hard on tropical plants like tomatoes. Either wait til those nights are behind us, or use a cloche or Wall-O-Water-type product to protect the tops.
If you buy warm-season crops now, just grow them on into larger pots, while keeping them in a bright window, greenhouse or cloche. You may be able to plant them outdoors if you previously set up soil-warming devices. Otherwise, keep them inside until soil temperatures warm up. Because while daytime temperatures are warm, nights are still cool – late this week, they're predicted to fall again into the 40s. That doesn't do tomatoes any good!
I noted that my favorite Pacific Northwest weatherman confirms this on this recent blogpost explaining soil temperature. Knowing a little bit about soil temperature goes a long way in helping you know when to plant. A soil thermometer – used in conjunction with a chart listing the minimum soil temperatures required by various types of veggies – will tell you exactly when the soil is warm enough. (His blog post includes a veggie temperature chart.)
That said, most of us are rarin' to plant! So here are some things you can do to get your veggies started earlier:
Plant in big pots, preferably black or dark-colored and non-reflective. The soil inside the pot will warm more quickly. As a side note, I suggest using no more than 50% sifted compost or 50% garden soil. The remainder should be potting soil, which offers better drainage. Then, buy or make a "tent" over the top of the pot to warm air temperatures during the day-night fluctuations. Just remember to vent it during the coming warm, sunny days and close it up in the early evening. There are some easy-to-use commercial "bags" that slip over the top of the pot and can be secured easily, if you aren't the handy type.
Planting in the ground? Here are a few ideas:
Try Kozy Kotes, Wall-O-Waters or other brands of tents. Set them up now, and you can plant in a week or so. (Use that soil thermometer to make sure soil temperatures have been sufficiently raised.) These products have water channels that insulate against temperature fluctuations and help protect young plants through their first few weeks. They can be set up alone, but best to have a helper on hand, either to remove the Kozy Kote to plant, and put it back on, or to hold it open while planting your tomato.
Try black plastic mulch to warm the soil. You can either cut holes in it to plant or remove it once it's done its work. (I don't like to keep plastic on the ground in my garden – for aesthetic reasons.) The next sunny week offers the perfect opportunity to make use of the sun for this purpose.
Take advantage of the warmth provided by the side of your home. Anyone whose veggie garden sits up against the south side of their house knows well the power of a building to absorb heat. Notice how daffodils always flower earliest on the south side of a building? If you're so blessed with a warm, south-facing garden, make use of it for your veggies! Just try not to plant directly under the eave, unless you're committed to watering. (Side note: a lead test is recommended when planting food crops in the vicinity of older homes.)
RESOURCES: read about the many kinds of soil-warming devices on the Territorial Seed website: