$10 and under
Elegant Eco-taining
How to party without trashing the planet.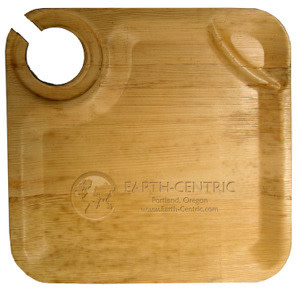 Most of us are all too familiar with the throwaway culture our country is famous for – and the landfills that have resulted. Many of us are also familiar with the attempt to move beyond that mindset. "Reduce, reuse, recycle" is a motto seen on many a t-shirt (especially among the under 10 crowd, it seems – which is encouraging) and lived by many of us, as much as we can.
The original three R's shouldn't be forgotten (readin', 'ritin', and 'rithmetic, in case you have), but they're joined by the new three R's – and even the four R's, with "restore" joining the list. Or better yet, the Burning Man six: respect, rethink, reduce, reuse, recycle, and restore.
Living out the reality of these R's, as many of them as we can, gets easier each year. Food scraps are picked up at our curbside, and we remember to bring our reusable bags with us when we go to the grocery store more times than we forget. Now, those of us who are looking forward to throwing some outdoor parties (maybe after July 4) can serve up our drinks and gourmet grub without throwing much into the garbage.
In fact, your next outdoor party can just add more to the big green bin that you roll out for curbside compost. Earth-centric is a local company serving up party plates and utensils that are reusable and as well as compostable and biodegradable.
No more paper plates (or worse, cheap plastic) getting trashed after holding up one measly meal of potato salad and hamburger. But picnicking in the park isn't exactly what you get out your fine china for. Turns out bamboo, bioplastic polymer starches and sugarcane bagasse (waste fiber ingredients) make for good and good-looking picnic service.
Earth-centric offers a large selection of eco serving items, but one that stands out is made by Bamboo Studio: a nifty update on a partitioned cafeteria plate, these have a notch at the corner for the stem of a wine glass to slip into. In this modern age, you can nestle your wine safely and still eat while you chat and make the rounds at your next outdoor party.
Most items come in restaurant industry sizes or individual dinner party sizes (many for less than $10), so no matter what sort of party you have planned you'll be set. They sell on line and at their retail store in Northeast Portland.
EARTH-CENTRIC
6017 NE Sandy Boulevard
Portland, OR 97213-3962
(503) 281-0307 / (877) 281-0307
Store Hours: Monday to Saturday – 10 am to 6 pm