Desirables
Indigo Sunshine
The mood is Mediterranean at Indigo Traders in Multnomah Village.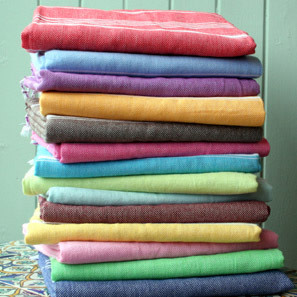 Luxurious basics: that's not an oxymoron, just a concise description of the sorts of tried and true traditional, old world exotic items for the home that you'll find at Indigo Traders. The ten-year-old shop's shelves are stocked with home goods that are natural and sustainable not because of some new trend or environmental awareness but because they're made the way they've been made for centuries. And because they're made in Mediterranean countries that haven't gone through the advances brought by industrialization quite the same as we have.
Indigo Traders has a direct line to Turkey and its Mediterranean neighbors, picking up a choice selection of kitchen, bath and other home products native to warm climates but thoroughly useful and welcome in Portland.
Take, for example, the Pestemal towels. These are the hand-woven cotton (or linen), long-lasting, super-absorbent but fast-drying towels that Turkey is famous for, and that play an important role in the illustrious tradition of Turkish baths (or hamam).
While we can't transport the baths themselves to Puddletown, we can indulge in the towels. Indigo Traders has them for between $35 and $45 (usually with a buy-one, get-one-free deal). They are big (70" x 40"), yet their flat weave allows them to roll up lightly and tightly as a typical terry towel never could, which makes them perfect for travel.
They are also the multi-taskers of towels, good for not just for home showers but for Sauvie Island swims, hot yoga, camping or jet setting to the tropics – and suitable for wearing as a sarong, a skirt, or a shawl, or using as a beach towel or even tablecloth (maybe not all in the same day).
The fibers of Pestemal towels gets softer with use and (gentle cycle) washing, and dry quickly (in the dryer or on a line). They should last for years, making them economical and environmentally responsible in all the best 21st century Portland ways, and a great gift for grads, dads, or newlyweds.
There's lots more to be found at Indigo Traders; the owners, Samir Naser and Karla Bean (a couple who met when both were living in Jordan) go on a few buying trips each year and are ever expanding their wares. Luckily, they're also expanding their retail space, planning to open a second shop in Hillsdale. That store should be open by September, and will focus on household goods and furniture, while the current store will focus more on products for the body, from soaps to scarves to clothing.
Indigo Traders
7878 SW Capitol Hwy
Portland, OR 97219
503-780-2422