plant geek's corner
Raconteur and Seed Collector Steve Newall Talks Plants!
watch out – attending might just inspire you book the next flight to the Land of the Long White Cloud!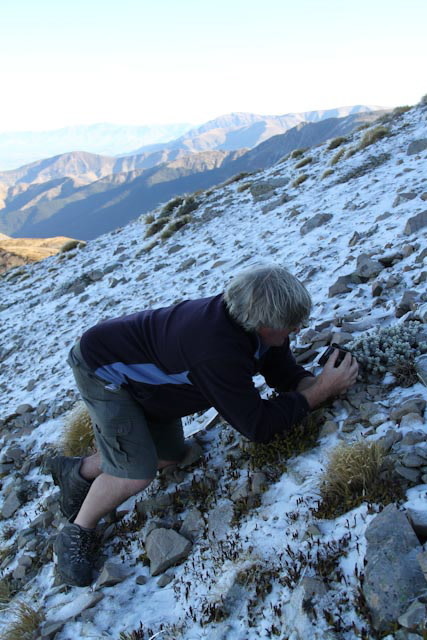 Noted plant expert from New Zealand, Steve Newall, will be in Friday night for a talk benefiting the Hardy Plant Society of Oregon.
WHAT: Steve Newall talk on New Zealand plants titled Seed Collecting: Where the Wild Things Grow
WHEN: Friday June 15, 2012. Doors open at 5:45 pm for a light supper at 6 pm, followed by the program at 7 pm.
WHERE: PSU, University Place Auditorium at U. Place Hotel and Conference Center, 310 SW Lincoln, Portland, OR 97210. Directions and parking details will be sent to all who register.
COST: $15 per ticket (advance registration required) includes supper. Same price for members and non-members.
Steve Newall is a plant explorer, seed collector and raconteur who collects and grows seed for the German company Jelitto Seeds, specializing in hard-to-find plants. He has been trekking around New Zealand (and the world) for the past 20+ years, collecting seed and photographing rare plants. Kinda like he's doing in that photo. Doesn't it look fun?
Expect a lively evening that will likely hold the interest not only of plant fanatics but also of anyone who enjoys traveling, gardening, hiking, spectacular natural scenery, and seeing strange and new things. (In other words, your spousal unit might enjoy it too!)
Steve's talk is an important benefit for the non-profit Hardy Plant Society of Oregon. His talk comes to us courtesy of the HPSO's Sanderson Fund, dedicated to promoting horticultural knowledge.
Event details are here; register by clicking link at the bottom of that page. (You do not need to be a member to attend – although it's only $35 for a year's membership. Best deal in town!)
For more information: – contact the HPSO office at 503-224-5718 or [email protected]