Desirables
Your Sofa Story, Custom Told
Create your own couch? Of course you can, at Perch.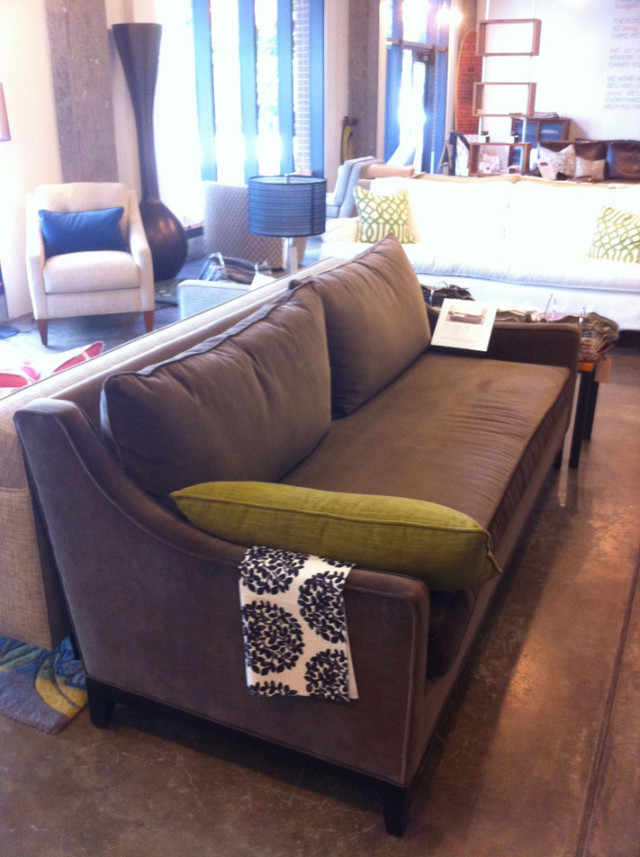 Sofas are big-ticket items, so you bloody well better like the one you spend your life – or at least some of it – sitting on (and much of your paycheck paying off). So: sofas custom-made would be the way to go, were they not too expensive.
But Perch, a small, independent, not yet two-year-old store in the Pearl, has the ticket to getting the specially designed sofa without submitting to the "here's my whole paycheck" syndrome. They work with a trio of small manufacturers in Los Angeles to turn out custom-ordered sofas in a quick enough timeframe (8-12 weeks) you won't go gray waiting just because you want a color no one else wants.
In fact, it doesn't matter if what you want is common or not; base prices are about $1650 for a typical 81-inch sofa in one of their several starting models. Adjustments (Deeper seat? Wider arms? Taller back? Longer?) cost about $50 or $100 each, depending on what they are.
Perch offers many fabrics to choose from (including scores for the slip-covered model they have), but you can also provide your own. They'll walk you (sit you?) through the decision/design process in a thorough though not intimidating conversation to get you what you'll really like. The owners, husband-wife couple Jon and Willi Galloway (they were sweethearts since freshman year at University of Puget Sound, a fact that he admits is sort of ridiculously adorable), are decidedly not designers; sofa experts, yes, but not designers trying to hoist upon you one style or another.
That said, the choices they have in base models offer a concise but substantial range of simple, classic sofas, from olde English mens' club Chesterfield to mod Dick Van Dyke style spare. Sizes can be small enough for studio apartments or big and brawny enough for a family and their dogs to sprawl across while cuddling up to watch the latest episode of Toddlers and Tiaras, or Cake Boss, or whatever they've queued up on Netflix.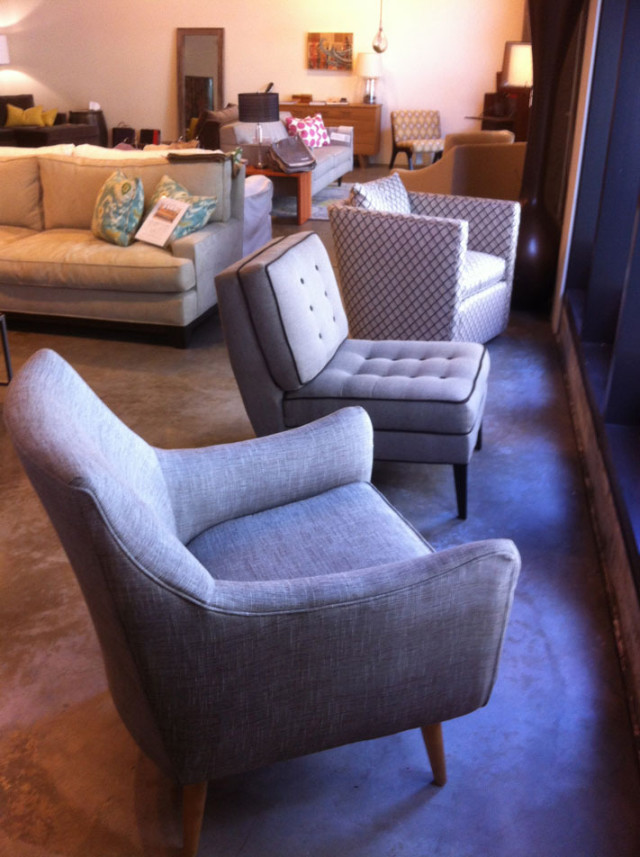 Jon Galloway says he never dreamed he'd be a sofa seller when he was a kid (did anyone?), but college seems to have set quite a path for him. Not only did he and Willi meet there, but their decision to go into the custom sofa business was inspired by a college friend starting a similar business in Seattle a few years ago. They were living in Seattle too, and agreed to help him out as he started up. After some time, they decided (with his blessing) to make a go of it themselves in their own business, and chose Portland (smart; they obviously learned a thing or two in college).
Perch is the sort of store Portland needs: competitive with the major national players, but not redundant alongside them. Small, local and personal, but not provincial. Design and quality oriented without being fashiony flash in the pan. And they have no plans to become a lifestyle store. They'll help us create our custom sofas (guaranteed for life); we create our own lives.
By the way, Willi Galloway recently published an equally Portland-y book, Grow Cook Eat. Would be good to curl up with on a comfie custom Perch sofa, I'd imagine. But more on that another day.
Perch Furniture
923 NW 10th Avenue
Portland, Oregon 97209
Monday: 10:00 to 6:00
Tuesday: Closed
Wednesday to Sunday: 10:00 to 6:00
Phone: 503.208.5128