Desirables
The Good Mod Makes a Good Move
The vintage furniture store stretches out in style in its new digs on both Burnsides, East and West.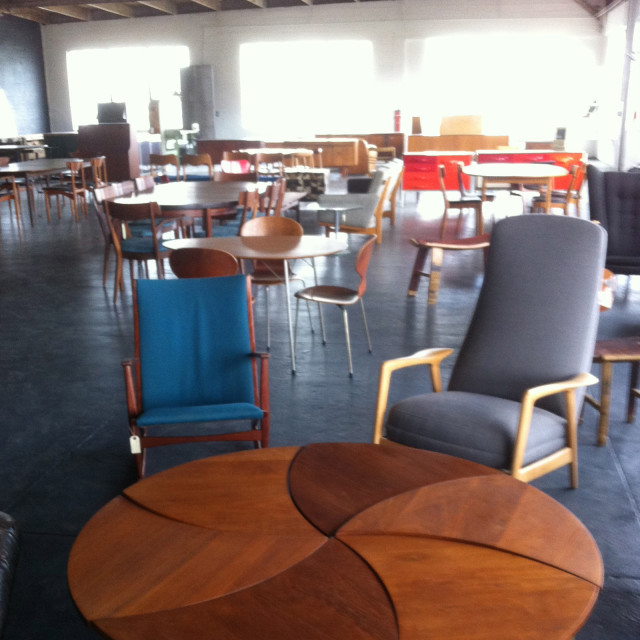 They've only been in their new home about three weeks, but already they're loving it. It's a fourth floor warehouse, and though they're not fully moved in, they've already got plenty of furniture – scores of sofas, chairs, dining tables and desks. It's enough to throw a big party, and invite all their new Pearl District neighbors. Maybe some day they will. That is, if they're not over at their East Burnside storefront gallery-sized temporary showroom. They're obviously covering all their bases for now, with East and West Burnside addresses.
The Good Mod is having a soft opening of its new flagship retail showroom/warehouse/workshop space at 14th and West Burnside. In contrast to the easy to find Eastside corner spot (at East 10th), the Westside location has no sign at street level; you have to call upstairs to get the secret code to open the garage door facing West 14th and the 405 freeway. But that will change over time.
At the moment, the vast space is still pleasantly rough; before moving the inventory from his Southeast shop, where he'd been for some five years, owner Spencer Staley and team gave the new place a quick coat of white paint on the walls and a layer of gray to camouflage the water stains on the rustic wood-beamed ceiling. The result strikes the perfect balance between clean-and-renovated and rough-and-real.
It's a fitting atmosphere for a fourth floor half-block building on the edge of the Pearl. After all, what we call "The Pearl" used to be an authentic manufacturing district where artists could rent cheap studio space. Now its a hybrid, ever-changing hodgepodge of local and national retailers, businesses and new and converted condos and rental apartments.
The Good Mod, with their extensive stock of refurbished modernist furniture, will fit into its new neighborhood well. The 21,000 square foot space gives them almost twice what they had in Southeast, which means more room for not just inventory but also the workshop where they hope to expand their production and fabrication business, especially in the direction of digital fabrication.
A 3D printer was busily printing away a scale model of a stool they were working on; team member Geoff Sosebee explained the concept of nine adjacent forms that would fit together into a rectangle, additively, or be sliced out of a large rectangle of material, subtractively. Separately, each would be its own piece of furniture. The little plastic model had been extruded from the plastic cord that is the "ink" that the 3D printer "prints."
It was a delightful and intriguing contrast to the rest of what the Good Mod warehouse contained: hundreds of Eames fiber glass chairs stacked in a corner (a new shipment had just come in); an Arne Jacobsen egg chair reupholstered with Pendleton wool fabric; live edge walnut slabs piled on a pallet and awaiting someone's ideas of what they should become next; the nearly completed live edge and industrial metal table that a local designer had commissioned the shop to make and was inspecting before he would approve it as ready to ship to his New York City home…
The contrasts and possibilities of the Good Mod, in its new space, are exciting – and likely will prove to be beyond mod or any other trend.
Two locations:
1313 W. Burnside (same building as Everyday Music), entry on 14th St. through parking garage door. Retail showroom and workshop space on 4th Floor (parking on 3rd floor).
Portland, Oregon 97210
503.206.6919
open daily 11AM – 6PM
1000 E Burnside St, Portland, OR 97214
Wednesday-Friday 11AM – 6PM