Desirables
More than Moody Blues
Cloth & Goods is a lovely new online (and NW Portland) shop for the pure shades produced by the magical indigo plant.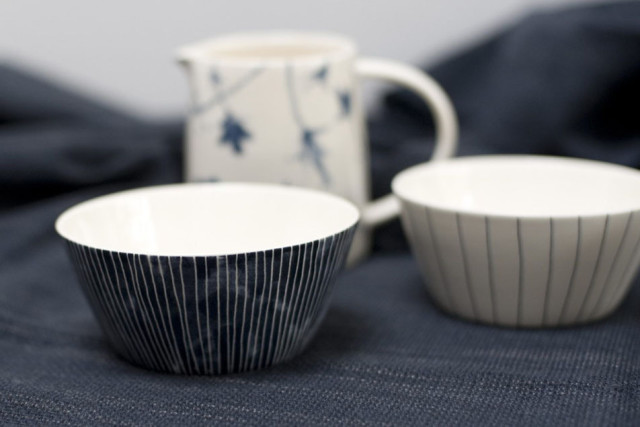 Online shopping is by now a staple for most of us, even if only during the crazy holiday season. But the web shopping environment is often barely better than the big box mall and its giant parking pad. Now, with the Cloth & Goods webshop open for business, the online shopping experience has improved.
Melissa Newirth's new website shop is lovely, informative, and easy to use. Better yet, her stock of home décor and goods, from pottery to paper plates (the most elegant you've every seen) is unusual and delightful, eclectic yet coherent, highly curated yet far from precious. The collection, appealing as it is to websurf around, is even more appealing in person. Living in Portland, we have the option for experiencing Cloth & Goods in the real, touchable world as well.
The brick and mortar location of Cloth & Goods is the Paramount Building at NW 19th and NW Lovejoy. (At Home has visited the recently restored 1920s Spanish style building before, checking out two of Melissa's cohorts, Loot and Filling Spaces.) The building and its neighbors are steadily becoming the charmingly welcoming center of Portland's unofficial design district northwest.
Cloth & Goods' two shopping environments complement each other well. The online shop is easy to browse (see the Gallery page, for instance) and filled with interesting details about fabrics, sources and artisans from England to Africa to Japan to New Mexico.
The physical shop rounds out the cyber store concisely. It's a lofty, light, warmly white space that perfectly sets off Newirth's picks of textiles, tableware and assorted other items (the simplest, loveliest leather envelope bags, for example; delicate indigo-dyed handwoven bast fiber table runners).
Newirth is a longtime photo stylist of interiors for retailers and designers, so it's no wonder she's made the most of the small, spare shop. It's her studio and workspace for design projects of all kinds. The common theme of the collection and her work is her unerring eye for organic, uncluttered color, pattern and texture.
Most of the cloth and goods reside amicably in the indigo, black and brown color family. A Japanese pillow is clad in vintage sake-filtering fabric, a sturdy but soft material that has stood the test of time and aged into a soft brown. Other vintage Japanese fabrics are "boro-patched" in the frugal folk tradition of continuing to use old pieces even when they grew frayed. Who knew late 19th and early 20th century Japanese folks were such models of modern sustainability?
About her business, Newirth explains that she, like most of the other (mostly women) entrepreneurs in the Paramount Building, didn't want to rely on a retail foot traffic-oriented bricks and mortar store ("Nobody here wants to sit in a shop all day long."). But the 21st century combination of cyberspace shop and restored stucco and concrete storefront provide just the right digital/physical hybrid.
Cloth & Goods is a fine discovery in NW Portland, all the better for being accessible to those poor souls not lucky enough to live in Puddletown.
Cloth and Goods
915 NW 19th Avenue.
Studio E (in the courtyard)
Portland, OR 97209
503-719-5774