novel idea
Chowswap
More home-grown or home-made food or produce than you can eat? Here's your solution!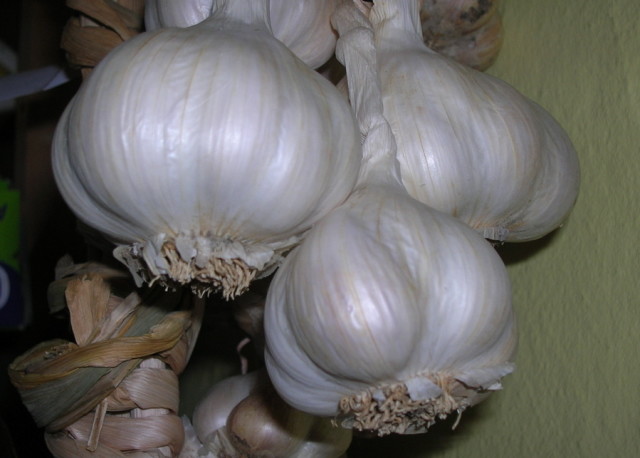 Every gardener-cook ends up with an overabundance of food from time to time. A few years ago, I got overenthusiastic planting beans and they rotted on the vine. This spring, I had more arugula than I could possibly eat, as well as armloads of flowers and too many Thai pepper starts. And what does one do with all those extra plums when you've already made all the pies you and your friends can eat?
There's a solution: check out Chowswap.
The website is designed for cooks, homesteaders and gardeners who make, grow or raise their own food. The idea is to connect people who have too much home-grown produce, home-cooked food, flowers or plants with others who want it.
How does it work? You can browse without registering, or you can register and then take a look at what's available on "available food". Use your zip code to narrow down your choices if you like. You can also list food you want to give away so someone else can respond to you with their own bounty. You contact one another through the site rather than through personal email, and you can meet and swap anywhere you agree upon.
To learn more about Chowswap, I emailed founder Jeff Ong. Full disclosure: Jeff and I are friends from Reed College — although I only recently learned about his clever Chowswap idea.
K.B. So how did you get into gardening? Is this a new-found love?
J.O. I first started gardening in college, partly because I was trying to live as cheaply as possible. We lived next to a vacant lot, and I tilled up a huge swath of it and planted tons of stuff. All very inelegant and wild… it was a big weedy tangle of tomatoes and peppers and greens and garlic, but I ate most of my meals out of that garden during the summers.
Now that I have a house, I'm putting in tons of fruit trees and bushes, and a lot of raised beds for vegetables. Again, it's not pretty, but it's pretty functional! That's my guiding principle. Certainly nothing I cook is overly pretty, either….
K.B. In school, I know you were an avid cook. Is your love of cooking what inspired Chowswap?
J.O. Ever since college I've been interested in making stuff from scratch. I've always baked a lot, and still do. I had a long cheese-making phase. Only a couple of years ago I moved into canning and preserving. I began brewing beer last year, and I'm starting to mess around with lactic fermentation now that I'm getting tons of stuff coming in from the garden.
But no matter how much time I spent experimenting with food and gardening, I realized I'd never be able to make everything myself. I don't have any interest in keeping chickens or goats, for instance. One day I was looking at my cabinet absolutely brimming with plum butter — it's really good, but how many jars of it can I eat in a year? And it struck me that, in an ideal world, I'd have neighbors who keep goats and make nice salty, funky feta, and I could give them a few jars of jam in exchange for something I crave. And I figured I probably already did have neighbors like that, but I needed a way to meet them.
Also, I'm car-free and have no plans to get a car, so the "local" thing is important to me… no way I'm riding out to Damascus every time I need a quart of milk! One of my goals for Chowswap was to make it easy to find people a few blocks away who have what you want.
K.B. So you're a freelance Web developer and foodie/gardener, and you just wanted to use the skills you have to fill a gaping need in this city. What do you hope Chowswap will become?
J.O. I'd love to see Chowswap turn into a vibrant community of food people. But mostly I'm interested to see what people want it to be. I'm very open to developing new features to support the ways people want to trade food. The site is pretty early-stage, still, and I certainly hope the people who use it will drive its direction.
K.B: Jeff, wasn't your senior thesis at Reed somehow about food?
J.O. As a matter of fact, yes! My thesis was a semiotic critique of three cookbooks, but focusing on The Joy Of Cooking. Among other things, I examined an old 1932 text of The Joy of Cooking, written by Irma Rombauer, and compared it to a late 60's version, extensively edited by her daughter, Marion Rombauer Becker. The original version was much more eclectic/"writerly"/experiential, while the slicker, commercially produced later version was much more dogmatic and literal — like the "readerly" texts meant to reliably elicit a fixed emotional response in the reader. But this is probably way more than you wanted to hear… ha.
K.B. Wow, you are such a nerd, Jeff. Anything else you want people to know about Chowswap?
J.O. Don't be scared! So far everyone I've met up and swapped food with has been absolutely charming and great. If you're a germophobe with visions of botulism dancing in your head when you think of home canning, there's lots of fresh produce, eggs, beer, and other non-canned stuff to entice you.
K.B. What would you love to see people offer up on Chowswap?
J.O. I'm a vegetarian, but I think it would be great to see some home smoked or preserved meats and fish. I'd also love to get some good local cheeses and other dairy stuff. I've been trying to find a good local source for kefir grains, too!
K.B. Also, what about flowers and plant starts?
J.O. Absolutely. One of the first trades I made was for young chard and fennel plants. Cut flowers would be a great addition to the site, too!
Okay, folks – have at it! Check out the site – help make it whatever you want it to be: Chowswap