Design Guide
Getting Into the Garage Groove
An unofficial guide to the principles of great (or at least good) garages.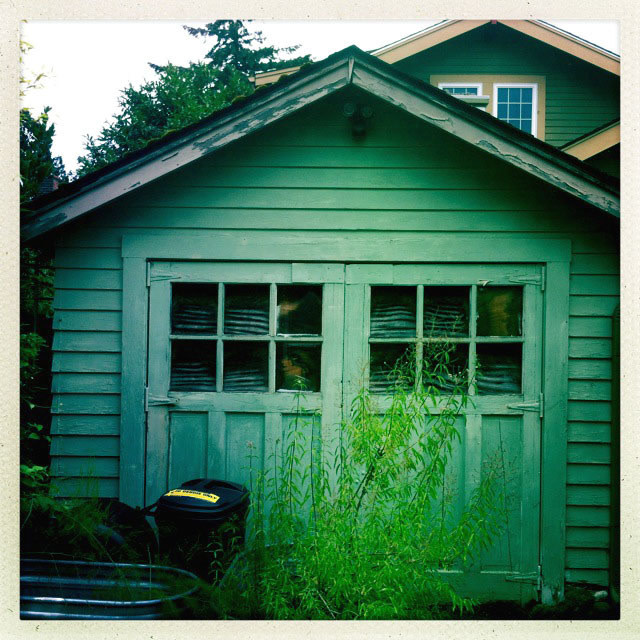 Last week, we took a quick photo tour around Portland and checked out an assortment of garage doors. Not surprisingly, the informal survey turned up some good, some bad, and some ugly. We were left with some questions: What makes some garage doors better than others? And where in town can we go for a new (custom or not) garage door that falls squarely in the "good" (or better) category?
Good garage door design goes beyond simply opening and shutting on command. And while we know that in many aspects of life, looks aren't important, in the case of garage doors, they most certainly are. At least they are in Portland's neighborhoods, where snout houses are essentially outlawed, and amiably fitting into the streetscape is not just appreciated but expected.
Getting a garage door that shuts down and puts on a good face to the neighbors simply means following some good basic design principles and combining the various design options amicably. Materials, color, details (panels, hardware, windows…), size and location all make a huge difference. Is the garage at the front of the house or on the side, setback or smack out front? Is it wood or metal, faux or real? Is the color in tune with the rest of the house, as a match or a harmonious contrast?
For instance, a garage that is setback and partly hidden down a sloping driveway (or even located around the corner from the front of the house) is much more forgiving than one that's right up front and center. Then again, many mid-century modernist houses deliberately site the garage door "out and proud" on the front façade, in which case the garage will need to be simple, spare and made of good materials that blend or harmonize with the rest of the house.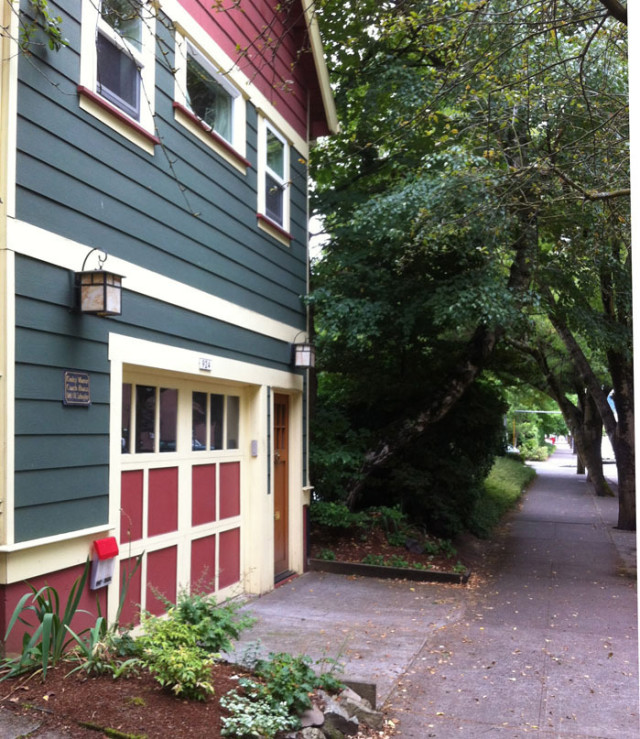 That same mid-century modernist home would look ridiculous with a traditional "carriage house" style garage door, but that door would be perfect on an early 20th century craftsman or 1940s Tudor style house. Scale is another factor: a garage that is as large as the house itself is a tough one to make look good. Camouflage can be achieved, or at least awkwardness minimized, through color, windows or landscaping.
Location means not just whether the garage is up front or off to the side, but also whether it's attached or separate from the house. And sometimes, doubling up or clustering garages creates a more pleasing, well-proportioned neighbor for the street.
Several Portland companies offer garage doors, including custom-made (or part-custom), from wood and/or carriage-style doors, to sleek aluminum-framed, glass-panel doors.
Here are a few Portland area professional garage door providers:
Pacdoor (a division of Pacific Overhead Door)
Carries several lines, from heavy duty steel doors (low maintenance) to Portland Collection "all natural wood carriage house doors" to custom built carriage house doors (Prestige Collection) and traditional raised panel wood doors.
Oregon City Garage Door Company offers wood doors as well as aluminum doors in a classic carriage house style, with windows and panels that can be painted and many choices in glass and panel finishes. Their Modern Classic line (from Northwest Door) offers simple, sleek, aluminum frame-and-glass panel doors.
Precision Overhead Garage Door Services has a nifty "Customize Your Door" page (Door Designer) on its website, where you can choose options for door design, windows, hardware, etc. They also offer a wide selection of Carriage House-style doors from various manufacturers.
Portland Old-School Woodworks company – for carriage-house style, swing out doors as well as sliding barn doors (including interior) and handcrafted, custom carpentry.