Desirables
Seattle Mod Squad
Solving modern problems with better basic furniture, made in America.
Well made furniture for real life living, classically modern, made in America and priced in between big box and boutique designer offerings. That's the sort of furniture Andy Johnson and friends were wanting – and not finding. So Andy, polymath Princeton grad that he is (a mechanical engineering major who loves design and went on to get an MBA), decided to start his own furniture company.
That was a few years ago. Now, he's launched Ample furniture out of Seattle, producing a few simple, elegant basics. His aim is to make pieces that are "beautiful, practical, and modest." So far, he's succeeding. Like countless designers, he's inspired by Charles and Ray Eames – not just by their aesthetic but, more importantly, by their philosophy. He mentions the well-known (but worth repeating) quote: to "make the best for the most for the least." It's a lofty goal, easier said than done. To that goal Johnson adds another key element: made in America.
For him, the American-made requirement isn't a jingoistic desire, just a belief that "a lot of people aren't meant to sit behind a desk." (He obviously speaks from experience.) In today's global economy, where some 90% of furniture is manufactured abroad, making a "decent quality, nicely designed piece of furniture for a decent price" is far from easy. But Johnson is trying.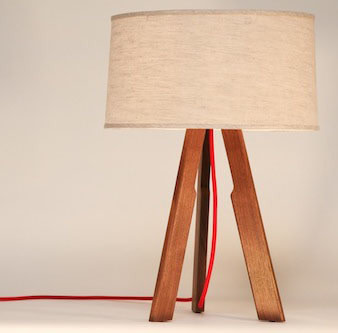 At this point, the small line from Ample includes a bench, a coffee table, an end table, and a couple of lamps. As the company name implies, the line will be growing. The newest item is the coffee table, whimsically called the Sfelt Table, for the 100% merino wool felt sleeve that wraps around the central portion of the walnut slab. The felt protects the walnut from modern devices like laptops (and coffee mugs), and is removable for washing. It's also an unexpected but elegant touch.
Johnson is interested in making little tweaks in basic furniture to improve how they can help us in our modern lives; the inventive details aren't just eye candy. He's recently moved into a new workshop space in the SoDo area of Seattle – South of Downtown, near the Seahawks and Mariners stadiums (and maybe a basketball arena someday?). It's a location full of promise for a furniture company equally promising.
He and his studio neighbors (they're in the warehouse that used to be home of Hasbro Toy Company's world headquarters) are having a Modern Design Block Party Wednesday July 18; if you're in the Seattle area that evening, swing by. If not, stop in on your next trip up north, or visit online.
Ample
4632-C Ohio Ave South?
Seattle, WA 98134
(206) 834 6702?
Open by appointment