Out and About
Taking it to the Streets
News flash: the Street of Dreams and Street of Affordable Homes are not the same streets. But both are pretty nice addresses.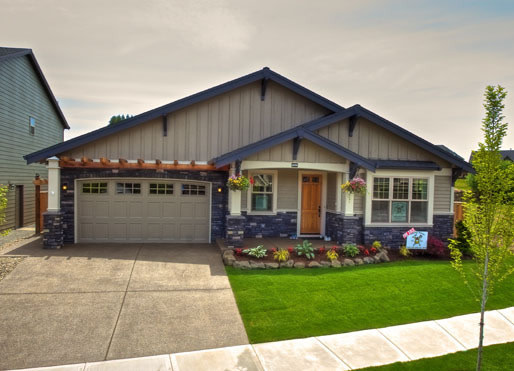 Dreams are free, but houses on the Street of Dreams, not so much. However, this summer, Portlanders can mosey down the not quite as poetic sounding Street of Affordable Homes. That showcase of new homes will overlap, on the calendar if not geographically, with the Street of Dreams showcase at the end of this month. As is usually the case, affordability has something to do with location: Street of Dreams is in West Linn, Street of Affordable Homes in Forest Grove.
Both will be an inside view of what builders are doing these days and what they perceive the Portland homebuyer is looking for. (Shockingly, "Great Rooms" and giant garages are still in.) With mortgage rates still historically low, and rental prices ever higher here in the Portland metro area (among the nation's tightest rental markets), buying is not out of the question for those with a good credit history and current financial situation.
Dreams come in many shapes and styles, despite the commonalities of the aforementioned predominance of great rooms and seemingly greater garages. On the Street of Dreams, Rivendell Manor by BC Custom Homes takes an "English country theme" and emulates "a romantic European manor" with its hand-crafted details, if not in its three car garage. Other models emphasize more planar, somewhat "modernist" predecessors.
Perhaps most notable is the Viking House, part of the Affordable Avenue homes. That fairly typical single family home was built by construction building students at Forest Grove High School. The school has been offering the real-world-skills-building program since the mid-1970s. The three-bedroom, two-bathroom house they built in 1975 at 2800 Sycamore Court in Forest Grove went on the market for $30,500.
This year's affordable Viking House is selling for $349,900 – which is a far cry from the million plus being asked for some of the Dreamy houses. Location, location, location plays a part, but size, finishes and details have a role too. And as Oregonians are wont to say, it's all good.
Street of Affordable Homes
July 5-29, 2012, Thursdays through Sundays
10 am to 9 pm
1065 Lilac Street
Forest Grove, OR
Go on line for a discount of $2 off admission price of $8 for adults.
Get tickets here.
Street of Dreams
July 28 – August 26, 2012.
11:00 am – 8:00 pm
Location: The Vineyard in West Linn
Parker Road & Noble Lane
West Linn, OR 97068
Daily Admission: Adults $15.00, Children 10 and under free.