get dirty
Summer Garden Projects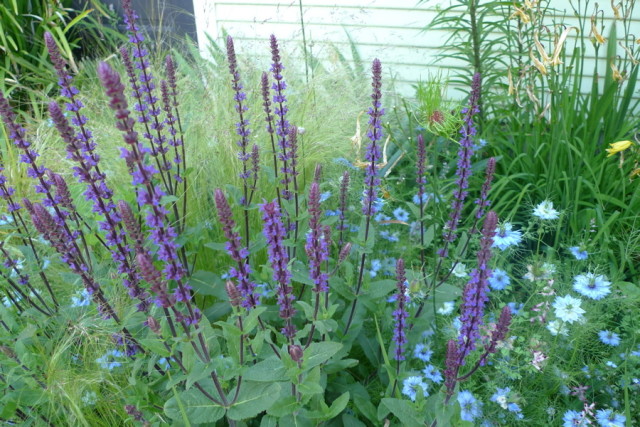 Summer has begun and it seems like the gardening season's over, right?
Not! Take it from a professional gardener: there are some little projects that can – and should – be done to keep the ornamental garden looking fine and the edible garden producing now through winter.
In the vegetable garden:
- plant winter veggies including broccoli, Brussels sprouts, cabbage and even kale. I also just sowed another round of lettuce (all heat-tolerant summer types) and will put up shade cloth over them if I have time.
- give tomatoes, peppers, eggplants, squash and melons a boost of fish fertilizer and/or kelp
- prune fruit trees in summer. Summer pruning is a great way to keep size in check and prevent annoying suckering shoot production. For details on summer pruning, check this out: http://www.ces.ncsu.edu/depts/hort/hil/ag29.html#dormant. (It's written by the North Carolina Extension Service, but the information's good for our area, too.)
Ornamental trees:
- cut back suckers and sprouts from the base of trees like witch hazels, dogwood, and flowering plums and cherries. Use sharp clippers and slice them off at the base, without leaving any stubs.
- now that the dry season's started, be prepared to water new trees (planted within 2-3 years) as needed during the warm, dry weather. During the first three summers after planting, water deeply twice a week with five to ten gallons. See the Friends of Trees website for more information and even videos on watering. Older trees can either be drought-tolerant (requiring, or even preferring no summer water) or not. If not, give a good, deep soak periodically during hot weather.
Flower gardens:
- cut back perennials that have finished flowering – either to tidy them up or to stimulate another round of flowers. Here are some of the ways different perennials can be cut back:
- Catmint and herbaceous salvias like May Night, Purple Rain and Caradonna should be cut back to about 6-10" tall to tidy plants and stimulate another round of blooms.
- Columbine and Oriental poppies should be cut back to the ground to remove spent, mildewy leaves and stimulate a fresh rosette of leaves that will look tidy until next spring's flowers return
- cut the flowers off lady's mantle (Alchemilla ), Astrantia and other seed-spewing perennials. If you don't cut off the spent flowers, you'll likely get lots of seedlings. Cutting spent flowers off will keep plants tidier and you may get another round of flowers if you give plants a good, deep drink and maybe a feed at the same time.
- Remove spent flowers from Cape fuchsia (Phygelius ), Salvia greggii and other June-flowering perennials. They will rebloom even if you don't but the spent flowers give the plants a raggedy look and you'll get lots more flowers if you cut off the old ones.