Desirables
Water Works Wonders
Plumbing that reaches a high level of elegance, from Waterworks and its sister Studio.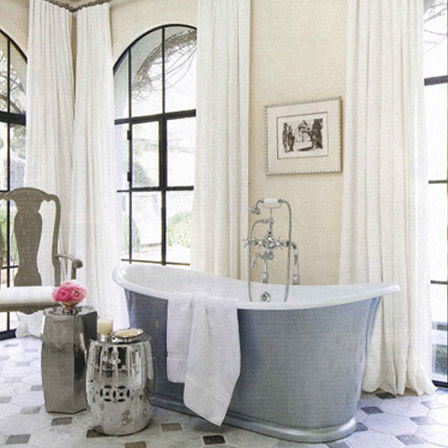 Of all the rooms in one's home, the bathroom stands out as being one in which function is a priority. And while we all know that form follows function, it's natural to want beauty and elegance to come along for the ride too.
Waterworks, of Connecticut, takes that desire to heart by creating elements for the residential bath that allow us to elevate our environment for carrying out basic daily rituals. How about getting freshened up each morning in a cast iron tub, its interior clad with smooth enamel, its lovely curving lines and roomy scale allowing you to stretch out as you scrub-a-dub?
Waterworks can provide you with the means to do this, with one of its new offerings, the Margaux tub. It lives up to its name (a fancy French wine) and is priced a bit more than a bottle, presumably (at $12,000 plus). But it's freestanding, double-ended, gracefully and solidly made. The kids will love it, too. And it's not something you can find at the typical big box hardware and home store.
Marble washstands and mosaic tiles (water laser jet cut by hand) can add to the atmosphere of being in a fine foreign movie, too. Styles can be modern or not, though the best-selling line (at least at Chown, which carries the brand here in Portland) tends to be the traditional-looking Highgate series. Most of the fittings (in sophisticated language of the bathroom, "fittings" are the handles and controls, like faucets and shower heads, whereas fixtures are the vessels such as sinks or tubs that are controlled by the fittings) are offered in nickel and in chrome. Side by side, one sees the color difference in these two high-quality materials. Nickel is warmer and almost yellow-toned, while chrome is colder and whiter in its shine.
Indeed, the lingo and legacy of the items that go into an elegant bathroom are far beyond what one grows up with in a typical suburban home. Much of Waterworks' line is inspired by classic French design and hand-forged in traditional methods in Normandy (that's in France).
Their secondary line, Waterworks Studio (introduced about a year ago) uses the same materials as the original Waterworks line – the same quality of chrome and nickel, for instance – but achieves a lower price point by simplifying a design into fewer parts than the higher-end model would have. It's an efficient way to streamline the process of manufacturing all the teeny pieces of a faucet, for instance, and make assembly easier too.
Again, only side by side can most of us see the difference, and it's not a difference in quality of materials but rather of less elaborate detailing of the many parts making up the whole. And in this case, as the saying goes, the whole is greater than the sum of parts.
Chown Hardware
333 NW 16th Avenue
Portland, Oregon 97209
Phone: 800-452-7634/503-243-6500
Hours: Monday – Friday: 8:00am-6:00pm
Thursday: 8:00am-8:00pm
Saturday: 10:00am-4:00pm
Sunday: closed