Article
Tour de Hives and Bee-Friendly Gardens
and learn how to create a garden that is both beautiful and pollinator-friendly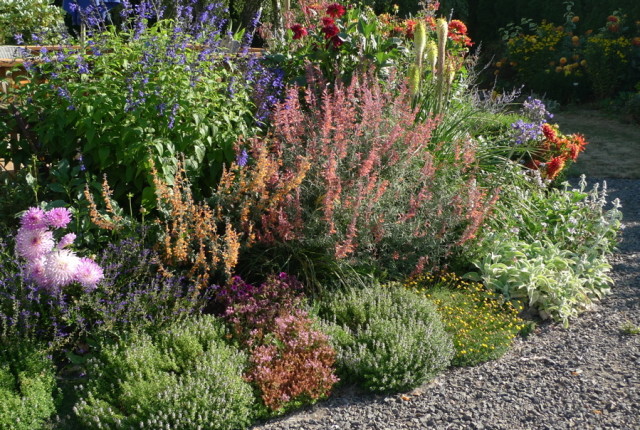 This Saturday August 18 is National Bee Day. Portland is celebrating with a tour of honeybee hives that day, as well as an ongoing, self-guided tour of pollinator-friendly gardens.
Bees and other pollinating insects have gone from being party poopers to rock stars in Portland gardens over the past few years. Where once we feared them, many gardeners now create gardens specifically designed to attract them to our gardens. It has in fact become fashionable to have gardens humming with pollinating insects, especially honey and bumble bees – but also, syrphid flies and many other handsome, shiny little creatures who dart from flower to flower, helping pollinate our fruit and vegetable flowers – and feed the birds.
Some especially geeky insect-lovers have the Xerces Society on their favorites list, photographing every new pollinator they find and competing to bring the most varied and beneficial insects into their gardens with pollen-rich flowers and good host/nesting plants.
It wasn't so long ago that we viewed insects as nuisances or even dangers, best killed with clouds of insecticidal spray. And we certainly didn't think about attracting them to our gardens.
But, as stated by countless statesmen and philosophers, the test of a civilization is the way that it takes care of its most vulnerable members. After decades of killing by insecticides and habitat destruction, it's time we started to take care of these smallest of creatures in our gardens.
WHAT: Tour de Hives
Walk, bike or drive to Portland apiaries; learn about urban beekeeping styles and how to steward the honeybee.
WHEN: Tour is Saturday, Aug. 18, 1-4 pm; post-tour gathering 4-6 PM.
WHERE: Tour locations are all over town – you pick those you can attend. Post-tour gathering at Lucky Labrador Brew Pub, 915 SE Hawthorne
COST: Tickets: $5-$15 sliding scale – purchase here. The tour is a benefit for the non-profit Zenger Farm
Details here or contact [email protected]
In addition, there's an ongoing, self-guided front garden tour that can be accessed by anyone with a cell phone. Here's how it works:
WHAT: Sabin Neighborhood Bee-Friendly Front Garden Tour – this tour features a variety of front yards, with a focus on bee-friendly gardens.
WHEN: On-going… take the tour anytime. Just print up a map or call it up on your phone.
WHERE: Various front gardens in the Sabin Neighborhood of NE Portland, OR. Print out a map. (Printed copies of the map at Livingscape Nursery, Garden Fever Nursery or the Backyard Bird Shop on NE Fremont.)
COST: Free – you're just using cell phone minutes to access the audio.
And the audio is well worth hearing: digital story-teller Emily Jameson Dubow has created the audio track, so you can hear the gardeners talking about their own gardens. It's very cool! To hear the audio, call 503-205-0326 and press the "stop" number you want to hear. Each "stop" is listed on signs in front of the garden and is shown on the map.
For more information about the Sabin Bee-Friendly Front Garden Tour, contact Diane Benson at [email protected].