Habitat
High-Water Haven
Winter floods and financial red tape couldn't stop an architect couple from building their dream cabin in Hood River.
FOR MOST PEOPLE, Hood River is the ideal launchpad for outdoor adventures in the scenic Columbia River Valley, whether that's windsurfing the Columbia or bicycling rural byways lined with orchards of summer-ripened apples and pears. But on weekends, when Paul McKean, Amy Donohue and their 15-month-old toddler, Matilda, make the 60-minute drive east from Portland to their Hood River getaway cabin, they usually enjoy the area's natural wonders from the comfort of their own living room.
The tall windows in their cedar-clad shoe box offer an expansive view of the magnificent surrounds: groves of stately fir trees through which the twinkling waters of Neal Creek can be glimpsed, and forested hillsides beyond.
"We're still totally blown away by [Oregon's] landscape and topography," says Donohue, 35, a Florida native who studied architecture at Princeton and worked at the New York studio of legendary modern architect Richard Meier before moving to Portland in 1996. McKean, 38, arrived a year earlier, following a stint at Chicago's Schema Design, where he helped design an addition to a Frank Lloyd Wright house. The couple met at BOORA Architects, where Donohue remains as a principal.
McKean and Donohue's exhilaration over the Columbia Gorge's stunning landscape may be the only way to explain their willingness to endure a two-year ordeal to build a modest, 930-square-foot cabin—a quest that involved struggling against both frustrating perceptions (on the part of the banking system, which balked at financing a boldly modern house) and immutable physical facts (a nearby creek that threatened to flood).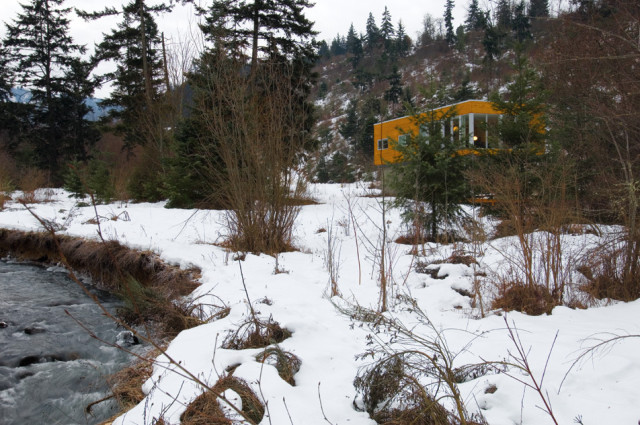 When McKean and Donohue discovered the vacant, 1.8-acre property in 2005, it had been wallowing on the market for over two years, largely because the creek's proximity made about 1.7 acres of it unfit for building. (Hood River County codes require structures to be set back 100 feet from the water's edge.) But McKean, who runs a private architecture practice, saw fresh possibilities, especially after having spent a yearlong fellowship studying prefab design in Austria, Denmark, Sweden, England, Iceland, Australia and New Zealand. In Sweden, he was particularly taken with a housing development created by Ikea and the builder Skanska; the developers of the project, called Boklok, streamlined the construction process to save money and built smaller, smarter spaces to take advantage of every square foot of land.
Borrowing some of the principles he'd gleaned overseas, McKean sketched out a design for a two-bedroom family cabin to present to the local banks. By cantilevering the living space atop a 10-foot-high concrete base and two concrete pillars, he discovered, the dwelling would not only maximize the envelope of its small footprint, it also would rise well above the property's flood line and provide an excellent vantage point from which to enjoy the surrounding views. To reach the main entrance, his family and guests would simply climb a utilitarian, exterior steel and cedar stairway. Design problem solved. Or so he thought.
Unfortunately, despite the physical accessibility of McKean's cedar-and-glass-clad box, loan officers considered the plan conceptually out of reach: Because so few modern houses had been built in the Gorge, they had no way to judge the home's potential resale value. "One of the first things they told us was, 'We're probably going to ask you to do a different style,'" McKean says. They wanted a Tudor, specifically, adds Donohue. "Our mouths were hanging open. We told them the style was non-negotiable," McKean says.
Bravely persevering, in 2006 they finally succeeded in getting a loan to purchase the property and build the $215,000 house. But locals remained a bit confounded as Hood River contractor Jeremy Muenzer started erecting the boxy, modern structure. Neighbors told McKean and Donohue that once the exterior was done, curious onlookers began to arrive. Every night, for months, at least half a dozen vehicles would slowly loop the dead-end street to gawk. "I took that as a compliment," McKean says.
Today, he and his family are the ones doing the gawking. Windows looking onto gorgeous views surround three sides of their living-dining-kitchen area, where the family spends its weekend vacations relaxing, playing and reading. (McKean and Donohue keep all their fiction titles at the Hood River house, and the nonfiction back in Portland.) For privacy and rest, there are two small bedrooms; guests can bunk in the hallway, where sliding pocket doors turn two daybed-like window seats into enclosed sleeping quarters at night. With white-painted walls, hardwood floors (sustainable tigerwood) and spare furnishings, the décor is understated, to say the least. But that makes an ideal stage for viewing the natural setting outside through sliding glass doors and windows.
More than just an out-of-town sanctuary, the cabin has changed the way McKean and Donohue think about their life in the city. "It's taught us you can 'live small' in two places instead of 'living big' in one," Donohue says. She and her husband have even thought about eventually selling their bungalow in Portland's Beaumont neighborhood and moving into a smaller Pearl District condominium. And they're not the only ones who've been enlightened in this way. After visiting the Hood River house for the weekend, one of McKean's clients withdrew a request for a 4,000-square-foot beach house in favor of a new, smaller design.
Moreover, as the only modern home in Hood River available for rent by the night (McKean and Donohue spend only about one weekend per month there), the house may eventually pay for itself, courtesy of snowboarders and windsurfers looking for a bit of urban sophistication in the country. Meanwhile, residents and guests alike are learning how easy it is to live a little more lightly on the earth—or at least to escape the rising seawaters.