Spirit Guide
Five Minutes With Dan Aykroyd
Comic actor chats about his Crystal Head Vodka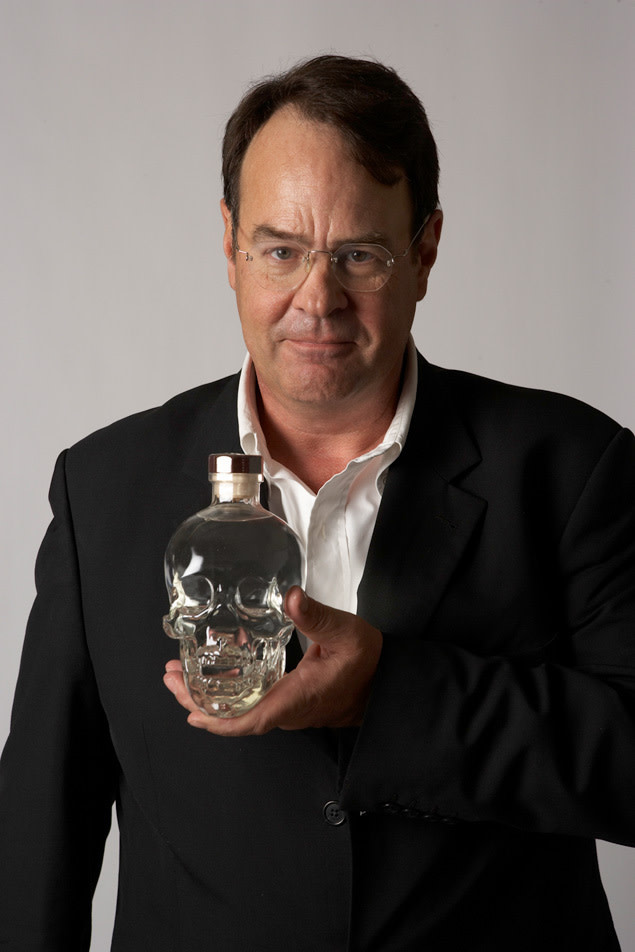 Since his formative days on the original Saturday Night Live Canadian funny man Dan Aykroyd has left a singular imprint on pop culture through his portrayals of a whole galaxy of quotable comic characters (Beldar Conehead, Elwood Blues, Ghostbuster Ray Stanz, and Fred Garvin, male prostitute, among about a zillion others). One of the actor's sideline ventures, Crystal Head vodka, blends his love of spirits (he's also been in the wine business since 2003) with an unabashed devotion to spiritualism that's run in his family for several generations. Crystal Head is a premium pure vodka created by Aykroyd that's made with water from an aquifer in Newfoundland—and now available in some 20 national markets. It's a damned distinctive vessel to say the least—designed by Aykroyd's friend, the artist John Alexander, who was inspired by Day of the Dead imagery. I first blogged about it last summer while cooling my heels at the Penguin Pub in Sellwood.
I chatted with Aykroyd by phone in advance of Monday's appearance at Stateline Liquor in North Portland (1190 N Jantzen Ave) from 3-5 pm, where he'll be hawking his hooch and presumably signing memorabilia and answering probing questions about Elwood's favorite harmonicas, the status of Ghostbusters III, and the immortal catchphrase "Jane, you ignorant slut!"
Right off the bat it became apparent Aykroyd is a speedy talker who needs no questions to get rolling on a subject, so I've extracted a few of his zestier comments.
On promoting his Crystal Head vodka: "Now John, in my time I've sold some bad movies. I might come to your town and sit down on a Wednesday and tell you that the movie I'm in that opens on Friday is going to be the biggest comedy hit in history. Knowing it was going to die, knowing it was going to fail. (Crystal Head vodka) is a winner. I'm riding a winner and it feels good to talk about it."
On the water that goes into Crystal Head vodka: "Vodka starts with water. Newfoundland has the cleanest water in North America. It was never subject to the Erie plume. The Erie plume was all that acid rain that flowed out of the Erie basin when railroads and coal and industrial production started in America in 1900. Newfoundland is 1000 miles away from all that and the Erie plume never touched the glacial aquifer water of Newfoundland. So, this is the water we use along with our proprietary mash. Our moment of triumph came when Anthony Dias Blue (author of The Complete Book of Spirits gave us a 91 point rating. And he noted it was, 'vanilla, sweet, dry, crisp, with a kick of heat off the finish.' And when I read that I knew we'd be able to make a screwdriver where I can feel the alcohol. We're proud of it. We're proud that we're returning vodka to the old ways—water and mash. And the consumers are responding. We just produced our one millionth bottle."
On being perceived as eccentric due to his belief in the paranormal: "Are you serious? In this world? With 54 percent of people believing in the paranormal? Look at all the television shows. Look at all the people who tell you ghost stories. Look at Arthur Conan Doyle's books, Sir Oliver Lodge's books. Charles Richet's books—he was the one who coined the word 'ectoplasm'. This is part of our world. If I'm going to be seen as eccentric in this light then you can probably lump about 100 million other people in with me. Let's all link arms and tell everyone that there's much more to this world we live in."
On the history of the Crystal Skulls: "The Navajo, the Aztecs, and the Mayans allude to them in their literature as devices that were given to them by 'star children', which is certainly the view that Spielberg took in the movie (Indiana Jones and the Kingdom of the Crystal Skull), that they're scrying devices from beyond the stars used to determine the past, the present, and hopefully a positive future for the tribe. … Now I've never seen one, but the most beautiful of them is the Mitchell-Hedges skull, which is referenced in the Indiana Jones movie, and it was found in Yucatan in the late 1920s by a 12-year-old girl who was accompanying her grandfather there. It resided in my home province of Ontario, Canada for several years. And everyone who saw the skull unveiled—it was kept, appropriately, in a Crown Royal bag—had an almost ecstatic, orgasmic feeling. They could only take it for about 10 minutes and then they had to leave the room, but it was a very positive, very healing experience. We're talking about healing positive energy here. So we don't put any junk in the bottle."
On delays in the release of Neighbors his 1981 film with John Belushi on DVD: "I wish I knew. That was one I'd like to have in my collection, we had a lot of fun making it. I'll have to get in touch with those guys and see what's going on."