Read This
A Chicken-Keeping Primer
Always had a hankering to raise a few hens and enjoy fresh eggs straight from your backyard? This new book from local owners of the Urban Farm Store will help get you started.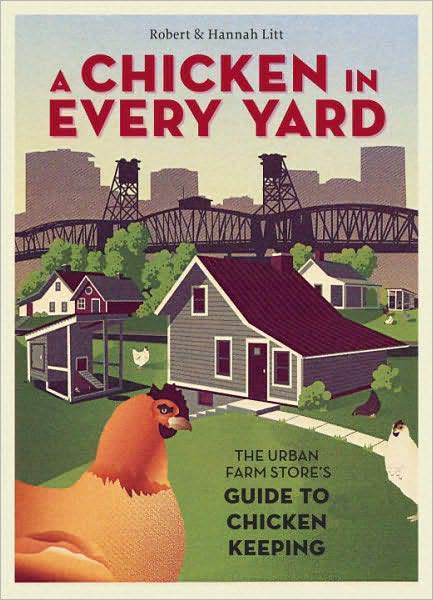 Perhaps your neighbor's hens enjoy nosing around in your grass, or your friends are extoll the virtue of their chickens, and you've always secretly wanted a few fowl of your own—but you weren't sure how to get started. This handy new book, A Chicken in Every Yard, (Ten Speed Press, 2011) from the good folks at the Urban Farm Store at 2100 SE Belmont Street provides all the info you need to get going on your very own flock.
Written by Robert and Hannah Litt, the owners of the Urban Farm Store, the book's easy to follow and starts at the beginning with a chapter on "Why Keep Chickens?" Subsequent chapters include planning, choosing breeds, building coops and runs, and keeping your birds healthy. There's even a chapter that includes egg recipes.
For those urbanites to whom chicken keeping is an alluring but mysterious pastime, this is the perfect basic how-to book. The tone is straightforward and informal, with lots of good anecdotes thrown in for color. (e.g. "One woman told us her chickens love to entertain themselves by swinging on her hammock…Another customer's hen likes to head-butt her cat.") We can't say that the illustrations or graphics are particularly exciting; most of the photos are snapshots that seem to be taken by the Litts or their friends. But an optimist would say that just adds to the book's accessibility; fancy infographics or overly glossy professional shots would detract from the no-nonsense text.
After you've read the book, head over to the Litt's store to get started with chicks and supplies. They're getting more 3-10 day old chicks in every week, with breeds ranging from Rhode Island Reds to Golden Campines to Light Brahmas (and they also are expecting baby turkeys and ducks, if you're wanting to branch out). They sell feed and coops, along with other helpful products, and even offer classes if you want lessons beyond the book. And like the book, there's nothing pretentious or precious about the store; it is what it is, and that's a straightforward, friendly way to help people become urban farmers.
So pick up the book and get reading! Soon enough, you'll be whipping your fresh eggs into omelets and and bragging about your own brood of happy hens.