Out and About
Crafty Wonderland Returns
One stop shopping comes to the Convention Center December 10-11, as Portland's creatives converge for a weekend extravaganza of visual art and handmade crafts.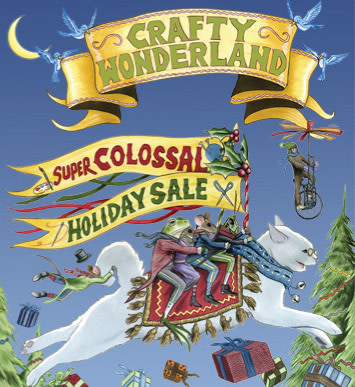 Thanksgiving is behind us, and thus the holiday season has officially begun. Which is not to say that the shopping season has begun, since as patriotic Americans we should all be consuming constantly to help our economy, right? But winter holiday time does bring to the forefront the idea of showing gratitude to our loved ones near and far, by giving them some sort of token symbolizing our appreciation.
And showing gratitude is not a bad thing to do, any time of year. Holiday season just makes it that much easier. One very easy way is to check out Crafty Wonderland. It's a relatively new tradition (begun in 2006), and a proverbial win-win situation for Portlanders: more than 200 talented local craftspeople sell their wares in a juried show at a central location (the Oregon Convention Center, right on the MAX line), offering you a slew of unique made-in-Portland gift choices.
The concepts of supporting your local economy, reducing your carbon footprint, and DIY-doing it yourself have blossomed as a three-point philosophy of sorts for Portland and elsewhere over the past several years. Crafty Wonderland brings it all together, especially for those of us who like the idea of DIY more than we actually have time to execute it.
A cruise through the vast halls of the Convention Center the weekend of December 10-11 will open your eyes to what hundreds of creative, energetic Portlanders have been up to this past year. The vendor list is online, with most sellers linking to their websites so you can see what they may be offering. Many of the makers have their goods in local (and national) shops, but this is a chance to meet your maker and leave out the middleman.
The festive event will also include a kids' area for budding young artists (I wonder what their definition of young is – does 45 count?) to show and sell their work. And to inspire us older folk in your own DIY efforts, there'll be a DIY area where local artists share their talent and teach us how to make a craft of our own to take home.
Word is that past DIY table projects have included snow globes, 1" buttons, shadow puppets, seed art portraits and cupcake decorating. Maybe I can cover everyone on my holiday gift list just by really working it at that part of the fair!
What: Crafty Wonderland Super Colossal Holiday Sale:
When: Saturday and Sunday, December 10th + 11th
11am – 6pm both days
Where: Oregon Convention Center
777 NE MLK Jr. Blvd, Exhibit Hall C
All Ages * Free Admission
Goodie Bags for the early shoppers EACH DAY!
If you can't make it to the festival, swing by the pop-up store (which has been popped up for a year now, with no signs of flopping), downtown at 802 SW 10th Ave. in Portland, on the corner of SW Yamhill + 10th, across from the Central Library?. (503-224-9097)
STORE HOURS:?10am – 6pm Monday through Saturday?/12noon – 5pm Sunday