Holiday Giving
Helping Create Habitats for Humanity
Appreciating having a home, and making new homes for those who have none.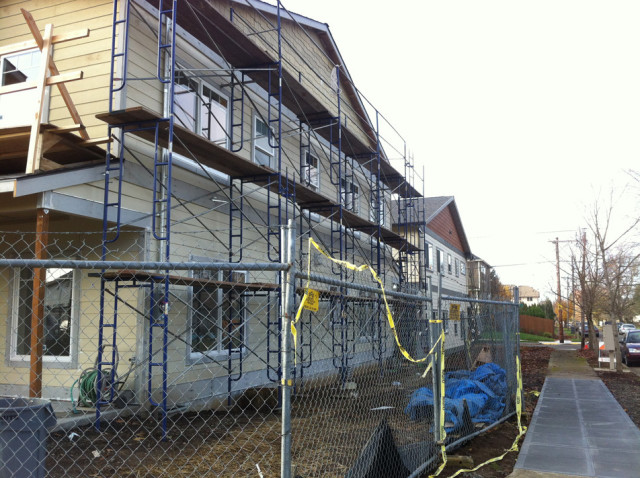 It is a cliché that the holidays are a "season of giving," but some clichés are worth living up to. Of course, this is also the season for counting days on the calendar: the days 'til December 23, when hours of daylight begin to get longer again; days 'til December 25, when all the little windows on the advent calendar are opened; days 'til December 31, when the year 2011 ends, and with it your time to have made all the charitable contributions you'll want to deduct from your taxes in 2012.
Despite the 10-year plan to end homelessness in Portland and Multnomah County, launched in late 2004 by former Mayor of Portland Vera Katz, having no place to live is a problem we haven't solved yet. The City and partners do a count each year of how many people are living on the street; they do it in January, when having no roof or walls of your own (not even to mention having a room of your own) is especially painful.
This year's count was 1,712 people sleeping (if they could sleep) outdoors (or in a car or abandoned building) last January 26. Another 1,009 people were lucky enough that night to sleep in an emergency shelter or have a voucher for a motel room. Those 2,727 people are described by the city and county as "literally homeless," but another 1,928 spent that night in transitional housing. All of them, 4,655 people, had no permanent place to call home.
Habitat for Humanity is one of the more venerable organizations working to improve that situation by providing homes for "families one step away from homelessness." While the Portland chapter has been here 30 years (and is the oldest on the West Coast), the houses it has built might be forgotten, because they blend into their neighborhoods. Their inhabitants are also their owners; they just happen to have helped build the roof over their heads, trading 500 hours of sweat equity for a below market purchase price.
Habitat's houses don't stand out as, for instance, the new Bud Clark Commons does at the foot of the Broadway Bridge in Northwest Portland. That much-needed, well-designed (by Holst) tower provides permanent housing (130 studio units), a shelter for men (90 beds), and day services for those living on the street.
Whichever organization you choose to give to, or however you help others have a home of their own, the need is never more apparent than now, when nights are cold and holidays remind us how much we have to be thankful for.