Out and About
Red Lanterns Light Up the New Year
Bid a happy Chinese New Year at Lan Su Garden, with festivities now through February 6.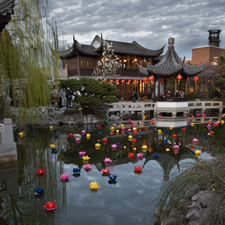 Today marks the advent of the Chinese New Year. It's now officially the year of the Dragon. But the celebration goes on at Portland's Lan Su Chinese Garden through February 6. And we need as much celebration as we can get this dark and election-ridden season; 2012 has begun, and Martin Luther King Day has come and gone. Valentine's Day is still a ways away. Thank goodness for Chinese New Year.
The occasion brings dragons dancing in the Lan Su garden – not alone, but with lions – each weekend day. Actually, they are the Lee's Association Lion and Dragon dance team, joined by various other people and creatures celebrating Chinese history and culture. Martial arts demonstrations, feng shui activities, plant talks and red paper lantern-making are all on the schedule. (Red is a lucky color in Chinese culture.)
The classical Chinese garden in Portland's Old Town/Chinatown is always worth a visit, but at this time of year, its combination of carefully cultivated plantings, intricately carved stonework and elaborately laid paving patterns are especially welcome treats for winter-weary eyes.
And it will be an extra special treat when the garden stays open after hours for its festival of lanterns, the last three days of the festival, February 4-6. The lantern-lit evening sessions are so popular that tickets have already sold out to the last two nights, and the February 4 night – a Saturday – has been added, but tickets are going fast for that. The evenings promise to be magical, with more than 100 hanging red lanterns, 200 floating lanterns on the little lake, and a custom lantern installation by NE Alberta Street's HiiH Gallery.
Lan Su Chinese Garden
Winter Hours ?(through March 31) ?10:00 a.m. – 5:00 p.m.
Admission ?$9.50 Adults; ?$8.50 Seniors (62 & above); ?$7.00 Students; ?$28 Family Pass (two adults, two students); ?ages five and under free.