Feature
Beyond the Churches
Jefferson High School & SEI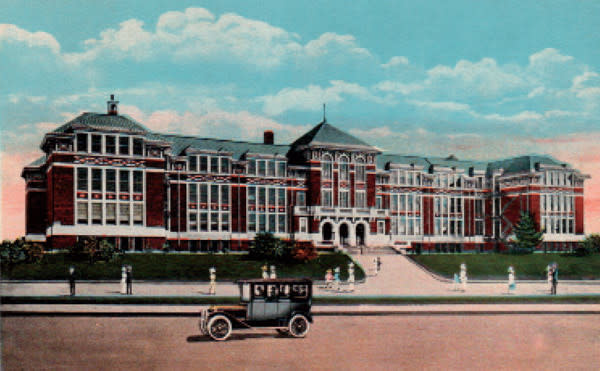 EVER SINCE African Americans' Portland numbers grew from dozens to hundreds in the 1860s, churches and private social clubs like the Elks have served as the primary pillars of the community. But in a city where the black population has never topped more than 8 percent and black elected officials have been a rarity, no public institution has played a similar role—except Jefferson High School.
"Jefferson has always symbolically been the black community's school and its anchor," says Lolenzo Poe, Portland Public Schools' chief equity officer. "Whenever there's a threat to Jefferson, it impacts the community."
Last year, just such a threat may have transformed Jefferson—or as it's known to many, "Jeff"—into an even brighter beacon for the increasingly dispersed black community. In 2010, the PPS board voted to shut down Jeff. A coalition of community groups led by civic activist and educator Tony Hopson Sr. struck a deal: remake the failing school in collaboration with Hopson, the founder of one of the city's great success stories, Self Enhancement Inc (SEI).
Started in 1981 as a one-week basketball summer camp, SEI has grown into a $12 million organization with its own iconic modern building built in 1997 in North Portland's once-gang-ruled Unthank Park. The operation provides almost 1,200 at-risk youth, mostly black, with "wraparound" support: after-school and summer programs, tutoring, social services, meals, and an assigned coordinator who is available 24 hours a day. The result: an incredible 98 percent high school graduation rate, with some 85 percent going on to postsecondary education.
Now SEI is taking on Jefferson. Under a new program, the Middle College for Advanced Studies, Jeff students can take classes at PCC's nearby Cascade Campus with the possibility of earning a year of college credit and continuing on at the University of Oregon, tuition free.
Starting last fall, SEI began supporting each incoming freshman class with its services, with plans to continue until it reaches every student at Jefferson. "SEI helped me through some difficult stages—they're like a family," says junior Jamartae Brown. He's been with the organization since second grade and, just as many in his community now commute to church, Brown travels to both Jeff and SEI from his new home in deep Southeast. His B-average, his slowly mending relationship with his father, and his goal to be the first in his family to go to college—he attributes all to SEI. "I'm not only a better student, but a better person."
It's too early to tell if SEI can budge Jefferson past its current 50 percent graduation rate, much less remain an enduring rallying point for Portland's ever-more-diffuse African American community. But Hopson is already looking ahead. "Not only do you now have the opportunity to turn a kid around, you have the possibility of turning a school around," says Hopson. "Then you do the same thing at other schools," he adds, looking to Roosevelt, Madison, and beyond.