Mudroom
Odes to Crash
Local poets pay tribute to Gerald Wallace, the Blazers' departed heart and soul.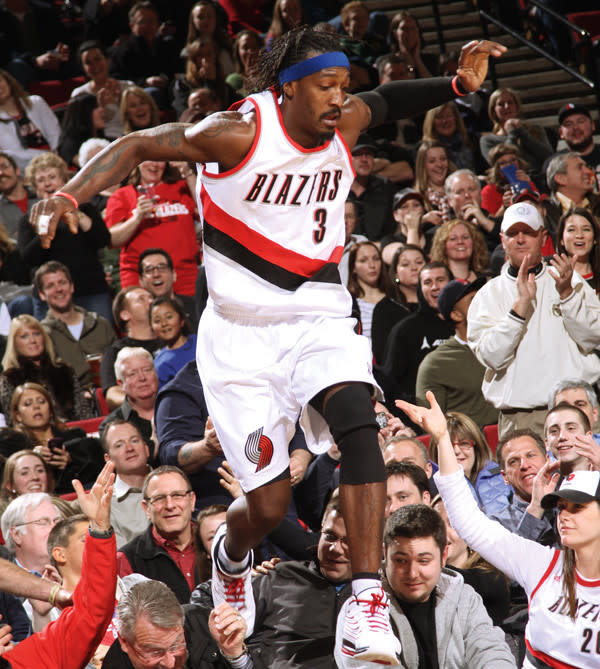 THIS MONTH, the Trail Blazers end an anguished season, which unravelled in the firing of coach Nate McMillan and the last-minute trade of forward Gerald "Crash" Wallace. A blue-collared former Charlotte Bobcat, Wallace once looked like a Blazers icon in the making (a Brian Grant, perhaps) winning over fans in his one year here with selfless, hardnosed play. As the season wound down—but before the rudderless team traded him—we asked Blazers-loving poets to exult his grit.
Suns @ Portland, 1/27
Just like a woman to worry
more about your relocation than
shooting percentage or tendency
to hurl your massive body
through space like a discus.
Sent away,
subtropical Charlotte
winking out behind you like a collapsed star.
To be reborn in the land of perpetual dark,
ducking from the airplane's capsule
into fat drops of frigid rain. Tonight, you enter
the white city's stadium like a gladiator,
thunder in the stands and the sing-song
in the mouths of the crowd: your name.
You'll have your revenge on the ball.
Crowd-surfing courtside, up 30
in the third, and Nate's face
twisted with analysis. Get used to this.
A city as depressed and gray
favors the French, naturally, but bets
are on we'll make you stay.
—Lisa Wells (author of Yeah. No. Totally.)
Visions of Gerald Wallace
Gerald Wallace and me combine for 80 points against
the Thunder. He puts up 40, and I fold my arms and
nod with cool shades on (40 style points).
Gerald leads the league in chin-beard and concussions.
His name is made of two old-man names, because
he's lived a lot. When he found out my Celtics aren't
visiting this year, he personally made me a delicious
cheesecake. He's just that type of dude.
Every time I drop something, I count it as a block by
"Ghost Gerald Wallace." Gerald Wallace is still alive,
which makes this extra scary. Next time I see him,
he becomes transparent. Not funny, Gerald Wallace!
Me and Gerald Wallace are in a car, playing cards,
betting cars, and the cards have pictures of cars on
them, and the car has pictures of cards on it. We both
win tons of cars. On my birthday, he sends me a car,
calling it "a birthday car."
Thanks, Gerald Wallace. For everything.
—James Gendron (author of Money Poems)
Crash (With Admiration)
Don't you know that things don't go well for the uninhibited? Don't you know that people talk about your road numbers more than your home numbers? Don't you know that our advances in life come not from the ability to hit a three sneakily from the corner but from our ability to drive? Don't you know that Marc Gasol is like 7"1', 270? Don't you know how to get out of the way?
—Bryan Coffelt (contributor to elimae and other publications)