Desirables
Maximum Remote Control
How to be away from home, but still very much in control.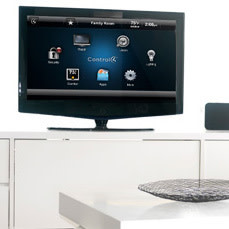 Have you ever been out of town for a few days, or a few weeks, and wondered what was happening on the home front? Not just how much rain you were missing (or worse still, if you were missing April sunshine in Portland while it was raining where you were in, say, Spain)? Well, a home security remote control system won't control the weather, but it can make you fully comfortable that nothing's gone awry chez vous.
"Smart home" systems can be operated via your smart phone; put the two together, and they're likely to be smarter than all the members of your household combined. Once you've programmed the system, you barely have to use your brain. Control 4 is one such electronic "home automation" system that'll do the work for you, day in and day out, whether you're home or on location in Italy.
Opening garage doors with the touch of a remote? That's passé – but now you can do it from your iPhone as part of a choreographed "welcome home scene." Yes, each time you come home, you can star in your own dramatic video. Paparazzi probably cost extra, but interior lights can be set to come on, and the security cameras can see it's you and not an intruder; your house can already have been heated or cooled to the temperature of your preference.
I've not heard yet of an automated system that has done the vacuuming and combed through the fridge to fix up a healthy 'n' tasty meal, but I imagine that's in the works. There are features in the Control 4 system that can tell if the fridge has gone off, for example, or detect water leaks. No more coming home to the water heater having flooded the basement, as I experienced recently (or worse still, water heater flooding the entire first floor for a week, as my neighbors experienced. We were all watching out for each other, but no one on the street knew what had happened inside while Jim and Kim were on holiday.)
Remote control home systems can be operated via smart phone over wifi from anywhere. You can program locks to be opened with temporary access codes that only work for a set point of time, like when you're expecting a guest or service worker, for instance; or the system can unlock a door only at the time your children will be getting home. You can even set the TV so that the kids can't watch it, or can only watch certain stations.
It's enough to get me imagining I'm the Wizard of Oz – and not worrying about home when I'm away. Plus, Control 4 lets you DJ the music in different rooms in your house, set the lighting for your home theater atmosphere, and change the thermostat from bed… the Wizard of Oz only wished he had so much power.
Control 4 systems are available in the Portland area through Harvey Simmons at Encore Audio/Video.
Encore Audio/Video
1605 NW Glisan St.
Portland,OR 97209
503.224.9400