Out and About
Inside the New Moderns
From boathouse to "Treehouse," new Portland modernist homes open up for a tour on Saturday.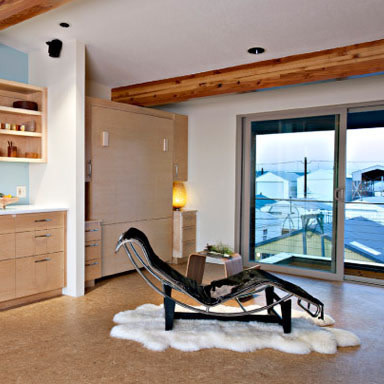 What is modern? People have been asking that question since at least a hundred years ago. There's still no definitive answer. And there won't be, but the Modern Home Tour Portland this Saturday July 21 will help us generate some thoughts.
We've lived through the post-modern era of architectural design (remember when Michael Graves's Portland Building was new, in 1980?). We've fallen into (and out of?) the deconstructivist period (though not so much here in conservative Portland, where no one has yet hired Frank Gehry, Zaha Hadid, or even Thom Mayne and we never fell far into the decon pond in the first place).
All the while, modernism has been living, if not thriving. By now, "modern," whatever it is, has become a new classical. Clean lines and "honest" materials; Louis Sullivan's "form follows function" plus Mies van der Rohe's "less is more." And, here in the northwest, a warm use of wood and melding of indoor and outdoor spaces.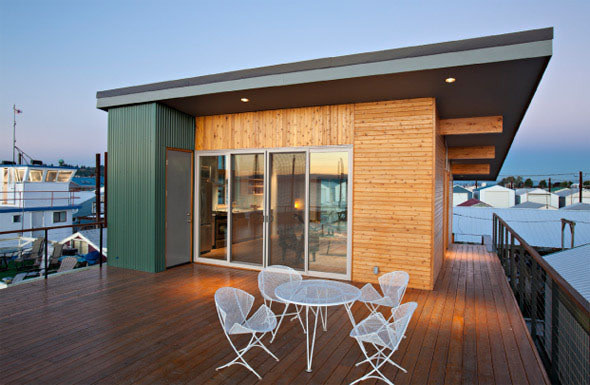 In Portland, we dote on our mid-century modernism, the historical period when a slew of northwest architects produced some long-lasting, ever-pleasing buildings in this modern vein. John Yeon, Pietro Belluschi, and the Eichler-style Rummer Houses are some of the best known.
Now, a group of modern architecture lovers out of Austin, Texas (you know, that other "weird" place down south, from which we copied the "Keep Portland Weird" slogan) has put together the Modern Home Tour Portland. (They've previously held tours in Houston, Denver, San Diego, Santa Fe and other cities). The tour gives us a chance to go inside some recent residential projects designed by local architects doing good work in the modern mode.
The tour offers a range of houses, literally from sea level to tree canopy… that is, from Emily Refi's boathouse to Ellen Fortin and Michael Tingley's "Treehouse" overlooking Laurelhurst Park. Some of the homes have been published in mod magazines like Dwell (Harpoon House by Design for Occupancy); two are for sale (though not by any affiliation with the tour or its sponsors).
Refi's Moonier Boathouse project is the only house on the tour that floats. It's built atop the owners' boat moorage in McCuddy's Marina off Marina Drive in Northeast Portland, as a sort of pied-a-terre without the terre. Construction was a challenge at times, but civil engineer/owner Dennis Moonier was the general contractor. The existing boathouse "foundation" is a U-shape, of course, allowing the boat to come and go, and it merely floats, attached to the dock which in turn is grounded by piers.
Adding 480 square feet of living space (and an expansive deck) on top of what is essentially a raft required that more floatation material (2 or 3 foot diameter pads like giant marshmallows) be added periodically as construction progressed. At one point, to install the custom-built stair, the entire existing boathouse had to be unclipped from its dock and driven out into the water so that the stair could be hauled into place by a "tug-crane." Then the boathouse was steered back into place. Definitely not as simple as building a little studio above the garage, but well worth it.
The seven homes on the tour will open their doors for visitors from 11:00 am to 5:00 pm on Saturday, July 21, across the Portland metro area (from Milwaukie to Marine Drive). Tickets are $25 in advance, $30 on the day of the tour. Those of us raising the next generation of modernists will be happy to hear that* children 12 and under get in free* (presumably, with an adult!).