Fashion Shoots are Fun
Backstage at Portland Monthly's Fall Fashion Spread
Introducing Eden Dawn, our intrepid fashion reporter.
August 16th, 2010
Dear Diary,
It has been a whirlwind couple of weeks. A random email from Randy Gragg, the Editor-in-Chief of Portland Monthly magazine, led me to a cafê confab with him and the magazine's Art Director, Jason Blackheart (who appeared to have never heard of Jersey Shore—how can that be?) After our meeting (some might call it "interrogation") I discovered they were interested in having me collaborate with them on the magazine's fall fashion editorial IF I could come up with the right concept. After taking the night to make up some inspiration boards and send them along, we agreed on the idea: Shape Shifters.
My concept? This season, the silhouette of great fashions from different decades are morphing and melding together into one modern fashion-forward look. Sounds good, right? Now, I had to find clothing that represented, make sure it all looked good together, find shoes, accessories, models, a hair stylist—and, oh, it all has to be done in a few days. Panic. Remember to write off red wine as medicinal expense on tax form.
It was important to me that the garments selected said something about both the past and the future. I thought about shapes that represented each decade – the power shoulders of the 80s, the 60s Mod look, the minimalism of the 90s. How would I ever find clothes to symbolize that many decades and still look like a cohesive editorial? Thanks goodness I have Nancy Drew-like detective skills.
I scoured the city for the perfect items from Gucci and Burberry to Liza Reitz and Bryce Black. Solestruck piled shoes galore on me. I called my amazing co-conspirator, Marianne Schnell a talented Nordstom personal stylist, who is awesome AND a sample size, "forcing" her to try on outfit after outfit until we had everything Rachel Zoe perfect. It was all going so smoothly. Our kick ass photographer Carlin Sundell picked these amazing shoot locations out at the Maryhill Museum's Stonehenge, playing off our shape theme. It was going to be brilliant!
Then came the heat wave. Suddenly our idyllic fashion fantasy was being shot in a 100-degree oven. With no trees, buildings, or bathrooms, we shot for 12 hours while trying to convince two sweet girls to put on heavy wool coats and feather dresses. Did I mention the fact that Carlin's team was also using a smoke gun to create a hazy effect? You haven't experienced a heat wave until you're choking on sulphur with watering eyes and pleading with people to please get the model off the giant rock before she faints in the $3,000 Gucci dress you borrowed.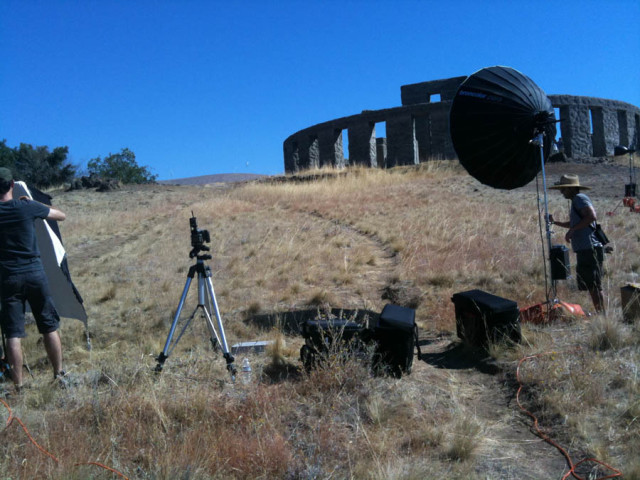 There were some touch-and-go moments during the day. The heat terrorized my weak-to-heat Oregonian soul. But every time an amazing shot went up on the camera's monitor, joy surged through our fashion team! Between shots, Marianne and I finally taught Jason what a "Snooki" and "fist pumps" are. And after the final shot we stood in an empty field in the dark and clinked our plastic champagne cups. I was so tired/proud/happy I nearly cried. (Obviously I didn't as I have to maintain my street cred.) Then, thankfully, it was time to pack everything up in pitch darkness and drive the 100 miles home.
So now here I am in bed. Can you die from tired? If the answer is yes and I don't wake up tomorrow, please let them play the theme song to Golden Girls at my funeral and don't let anyone in who ever owned a pair of Crocs. It's been 20 hours since the 4 a.m. alarm started the day. But I'm going to sleep well knowing the pictures are even better than the portrait I used to have of Luke Perry in my locker…
Xoxo,
Eden Dawn
Click on our slide show link above to view all the behind the scenes shenanigans.