Insider Info
Amelia Toro Q&A
Questions answered from our favorite visiting Columbian designer.
For those of you who read my entire coverage of Portland Fashion Week, you probably guessed I had some favorites. Amelia Toro was a designer that blew me away with her level of craftsmanship and conceptual mastery in her collection that was strong and statement like with its culturally tied embroidery. Despite her insanely busy schedule which had her departing Portland immediately following her show to be present for a debut at the Bogota Museum of Modern Art (we've all been in that situation), she managed to find some time to answer my intruding questions.
Q. What was your overall impression of Portland when you were here?
A. I loved your city and I felt people are very open to new ideas. I believe Portland is a very progressive city due to the fact that it was able to create the only runway for designers that are committed to sustainable practices and are aware of nature, organic and socially responsible fashion houses.
Q. You're a seasoned designer with an impressive resume (Vogue, Bazaar, etc). What made you think that Portland Fashion Week should be added to that list?
A. Lynn Frank the president of Five Stars International who contacted me after reading an article of my work in the New York Times was very convincing and persistent and understood how important and how much we were committed to social responsibility. It was a great opportunity for our company to show our ethnic work and our culture, which is an important part of my designs and through this runway we could continue our work with these indigenous groups.
Q. Your Hispanic Heritage collection featured motifs from the Kuna Indian. Is it important to you that your designs reflect culture?
A. I am interested in the universal quality of their work. The Kuna Indians are based in Panama as well as in Costa Rica but a lot of their geometric shapes are found in many other indigenous groups around the world such as many of the American Indians who use graphic shapes. Culture is important, so are roots. What I tried to do with this type of work is to show how small the world is and how universal these graphic shapes and patterns are.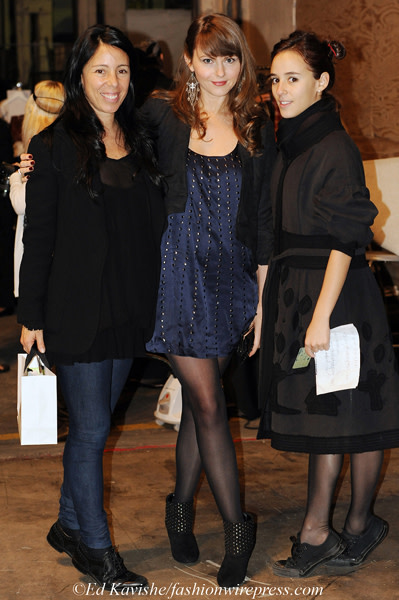 Q. Is there any other particular cultural theme that you want to feature in a future collection?
A. Yes, I am working with many other ethnic groups and artisans for a future project with Disney.
Q. How do you begin working on a collection? (Sketches? Pictures of inspiration?)
A. Usually I begin by choosing my fabrics. I am also inspired by many ancient paintings by architecture, dance and my own personal experience in travels etc. then I start sketching and producing first samples which change several times until we feel it's ready.
Our previous collection was inspired in Alice in Wonderland, the story written by Lewis Carroll. This is an example of how our fabrics created some of the characters of this story. We were inspired with English ceramic prints, for Alice we developed a magical, floral print; our twins were inspired by the graphic design of Tim Burton, and obviously black for a cat.
Q. Where can someone in Portland buy your designs?
A. Right now we do not have a store that carries our work in Portland but we are in the process of looking for one. If you know of any multibrand boutiques it would be great for us to contact them.
(Editors note: Did you hear that Portland boutiques? You need to lock that down.)