Portland Fashion Week
PFW 2010: Opening Night Presentation
Adam Andreas, Idom, R. A. W. by Rio Wrenn, Dawn Sharp, Laura Allcorn, Sword & Fern, Pinkham Millnery, Filly
For a fashion writer, everything just seems right in the world when PFW starts again. It's that kind of mixed up, anxious, slightly queasy, excited endorphin rush that I used to get from carnival rides, but now get from an interesting print combination. And I am happy to have gotten that feeling last night when I walked though the giant doors of building 10 in the Vigor shipyards for the opening night of Portland Fashion Week. An untraditional kickoff, the week did not start with your typical runway show but with an evening of art and fashion in the form of pod-like installations. Each designer was able take their given space and turn it into whatever they felt best represented their point of view. While some may miss the thrill of the runway show, the connoisseur of clothing appreciates the art of an installation show for the details you can notice and linger over.
Click View Slideshow for an Opening Night Photo Tour! Saucy stuff, see?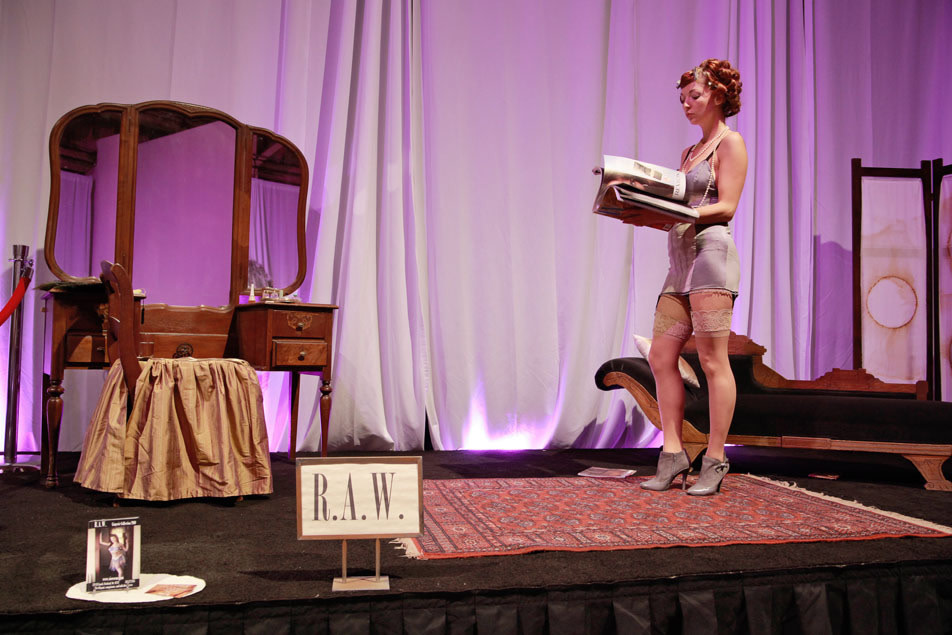 After examining each pod in depth my brain was happy and overloaded. I was easing towards my escape and then remembered there was a whole other room filled with company displays: A booth for 24Notion, the marketing mavens behind PFW, some great local artists, as well as a representation from our beloved Junk to Funk with dresses made from hats and socks. There was really something for everyone.
The Evenings' Designers
- Adam Andreas
- Idom
- R. A. W. by Rio Wrenn
- Dawn Sharp
- Laura Allcorn
- Sword & Fern
- Pinkham Millnery

Upcoming:
Tonight is the kick off of the runway shows and the "Catapult- Emerging Designers" collection will be taking place. Come to the show and see if I cast the right vote as one of the judges.

Fashion Week Information:
www.PortlandFashionWeek.net
When: Wednesday, October 6th – Sunday, October 10th
Doors: 6:30pm, Seating 8:00pm
Where: Vigor Industrial Shipyard: 5555 N. Channel Avenue. Portland OR 97217
Find Portland Fashion Week 2010 event info on our Events Calendar.