Shoe Business
The Doctor is In
Bands and brands: Doc Martens kicks out the jams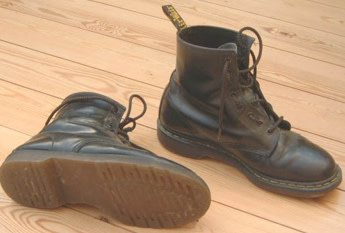 Gone are the days when a clothing store was just a clothing store, and record stores, well, existed at all. Commerce is become increasingly hybridized—a little of this, a little of that—and the lucrative partnership between fashion and the music industry is as mutually beneficial as ever.
Small wonder then that Dr. Martens, the pioneering punk shoe manufacturer—which opened a revamped storefront on the corner of SW 10th and Burnside earlier this month—is teaming up with three Portland bands for a series of free in-store shows from now until Dec 1.
While the Dr. Martens brand has been associated with iconic rock rebels throughout its 50-year history, this recent fusion of regional indie-music, local beer, and fashionable footwear is proving complementary, if not cognizant, for both retailer and its clientele.
"We like playing in-stores," said Ryan Solely, lead signer of the Portland's Builders and the Butchers, who kicked off the series last Friday. "It's more intimate than a typical venue. It's laid-back."
And like the utilitarian eight-eyelit boot that came to define the U.K. punk scene of the 1970s, and remains Dr. Martens most popular style, there was nothing remotely bourgeois about last week's crowd. The store welcomed an unprecedented number (250) of spectators and shoppers alike, who seemed to master the balancing act of trying on shoes while sipping drinks and bobbing their heads.
The next concert will be on Nov 19. The band will be announced early next month.