Runway Happiness
Big Chill
Widmer's third annual combination of fashion and…bowling?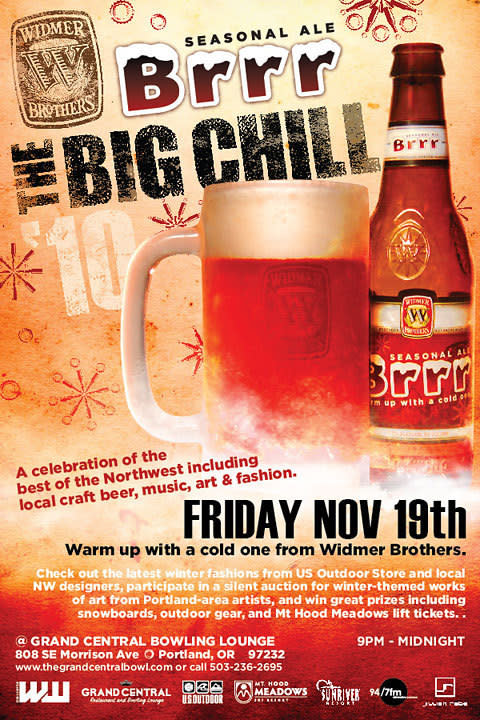 On Friday, the third annual Widmer Big Chill event will take place at Grand Central bowling alley. And nothing says fashion like bowling shoes. Actually, to be fair, this is a pretty classy kind of joint and the last time I was there I saw a Bell Biv Devoe video on their huge screens, which is a surefire way to put you in my "like" column. The whole event is supposed to be about high fashion anyway, and it's also about kicking off the snow season, having a few beers, and taking in the sights. Some of things you can wander around and behold (for free!) are:
• Music from 94.7 FM and Grand Central's DJ "X" as well as fashion show on the bowling lanes featuring local looks from Atmosphere, Auviq, Looptworks, PCB (Phlox Clothing Boutique) and the best in winter gear from U.S. Outdoor Store.
• New this year: a silent auction benefiting PDX POP NOW!. Local artists have taken skis, snowboards, and toboggans and created winter-themed works of art. Guests can vote on their favorite and the top artist will win the opportunity to create a custom-designed snowboard complete with lift passes to Mt Hood Meadows or a weekend getaway to Sunriver Resort.
• Snow junkies can also get their pictures taken at the Big Chill photo booth, hosted by Paparrazzi Tonight, or warm up with a sample of cold Brrr, the winter seasonal from Widmer Brothers Brewing.
If you're a boarder, like beer, bowling, or art, this should be on your Friday fun list.
What: Widmer's Big Chill
When: Fri Nov 19th, 9pm
Where: Grand Central Restaurant and Bowling Lounge
839 SE Morrison Ave., Portland, Or
Cost: Free!
Widmer.com